Unito Product Updates: A Master List
Unito isn't, and will never be, finished. We're always working to improve, and this is often driven by recommendations from our awesome users. A ton of updates and changes, big and small, are rolled out each month that we don't want you to miss! This post will be updated on an ongoing basis to capture all of those changes, so be sure to check back in for the latest.
March 2023
Sync Google Sheets dropdowns
We received a lot of requests to support these fields, and now our integration does! You can map dropdowns to similar fields in other tools, like single-select fields in Asana. You'll also be able to create rules with these fields.
Choose to auto-map fields or start from scratch.
Now, when you map fields between tools, you can choose to let Unito map them automatically or you can do it from scratch yourself.
Unito's new resources library
The resources library is your one-stop shop for webinars, walkthroughs, technical guides, and everything else that'll help you get the most out of Unito.
February 2023
Export & Sync is live!
Ever wanted a simple way to export data from Trello to Google Sheets and keep everything in sync? With our latest Power-Up, you can do all that in just a few clicks.
SSO private beta
We've just launched a private beta for this highly-requested feature. If you'd like to participate, don't hesitate to reach out to our support team.
Google Sheets improvements
When building a flow with Google Sheets, you can now create a new spreadsheet directly from Unito. Just click Create a new Google Sheets Sheet after connecting your Google account.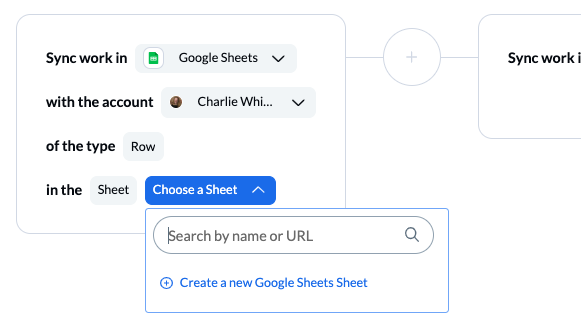 Bug fixes
Fixed an issue preventing users with expired trials from joining their organization's paying workspace.
Squashed a bug that truncated work item titles starting with numbers.
Fixed a bug preventing Outlook Event dates from syncing properly.
Fixed an issue with Google Sheets default values not syncing to Trello.
January 2023
Fixed a bug that prevented dropdowns from being used as rules in Asana.
Fixed an issue that prevented Excel and Outlook from connecting.
Fixed a bug preventing payment information from updating properly.
December 2022
Fixed a broken "See all plans" button for Wrike workspaces.
Fixed an issue that prevented Mirror settings from loading.
Fixed a bug that showed custom fields in the rules screen when they shouldn't be.
November 2022
Google Sheets improvements
Big fan of Google Sheets? This little improvement will automatically colour the essential columns added by the Unito add-on green, so you know they're there to keep your flow working right.
You can also now directly paste a URL for your spreadsheet into Unito to avoid searching it up.
October 2022
Unito is now SOC II Type 2 certified!
Following an extensive audit by an independent third-party firm, SOC 2 Type 2 compliance signifies that Unito has designed and implemented the necessary policies and processes to securely manage data and protect the privacy of users. Want to learn more? Here's a full blog post about it.
Highlighted bug fixes and other updates
Resolved issue that prevented Trello checklists from not syncing with Mirror
Fixed bug that blocked Jira users from syncing Remaining Estimated Duration fields.
Fixed bug that caused some fields in Azure-Zendesk flows to be slow to sync.
September 2022
Updated Help Center
If you've been to the Help Center recently, you might have noticed something different; it's had a bit of a facelift.
We reworked the look, the structure, and the articles themselves to make it easier to find the help you need quickly. Ironically, the very changes that made it look so much better will probably mean you see a lot less of it.
Highlighted bug fixes and other updates
Fixed bug that prevented statuses and lists from updating between Jira-Trello
Resolved issue that blocked Wrike status changes from syncing to Airtable
Fixed bug that caused some Google Calendar events to be created before the dates specified in Trello.
August 2022
New HubSpot tickets integration
Want a way to escalate HubSpot tickets to other tools? Maybe you want to bring in more collaborators on high-value tickets? Either way, Unito's newest integration has your back. Here's more about what you can expect from this integration.
Google Sheets Date and Time improvements
Instead of syncing the formula used to create dates and times in Google Sheets, Unito will now just sync them as plain text. This will improve compatibility between this integration and others.
Updated Unito dashboard
Notice anything new when you logged in?
We just gave the Unito dashboard a bit of a facelift so some of the most important links are at the top. Here's what each link leads to:
Get inspired: Unito's resource gallery, which is full of templates and walkthroughs.
Discover more tools: Unito's integrations screen, which lets you connect more tools.
See your usage: Accesses the usage screen, which tells you how much of your Unito plan you're using.
July 2022
Google Calendar integration improvements
This integration first launched in May and we've already received a lot of great feedback from the community. Here's our first roll-out of changes to make this one work better for you:
Create a flow with a start date OR an end date
Sync all-day and multi-day events
What do these changes mean for users?
Existing flows will not be immediately affected. If you want them to, simply remove the JSON text under the advanced options in-app, and save.
You can apply the changes to new events going forward or all historical events associated with your flow.
June 2022
New Miro template
We're big fans of templates at Unito. They can make your life easier and unlock completely new use cases for a tool you thought you'd mastered. We've built quite a few, but we've just launched a huge template for Miro that helps you track a product's launch lifecycle. You'll find it here.
Flow Preview for Asana
Already using Unito to sync Asana tasks? Maybe you've always wished you could get a better idea of where each task was going? With the Flow Preview companion app for Asana, you can quickly see how many Unito flows are syncing individual Asana tasks. Learn more about it here.
May 2022
Microsoft Excel integration
Diehard spreadsheet fan? You can now sync your spreadsheets with your other tools, so you can make data more visible without having to explain your formulas for the hundredth time. Here's more about this integration.
Flow duplication improvements
We've just made serious improvements to the flow duplication feature — which lets you create new flows without starting from scratch. Now, duplicated flows can be automatically populated with not just your field mappings but the values in them (think labels and tags). You'll also be able to change the block of work you use on both sides of your flow. Here's more about how this works.
Salesforce custom field support
Need to sync tasks and contacts from Salesforce but missing out on custom fields? No longer! Unito now supports custom fields both for Salesforce tasks and contacts.
Salesforce opportunities
Not only can you sync custom fields, but you can also now sync Salesforce opportunities using Unito. You can learn all about how this works here.
April 2022
New Trello Power-Up
Love using Unito without leaving your Trello board? Our newest Power-Up lets you sync Trello with Google Calendar, so you can track important milestones and meetings in both tools.
Automatic field mapping toggle
Unito can automatically map similar fields for you across tools. Now, you can choose between this default function and starting from scratch. That way you don't have to delete every field mapping before you start.
Jira OAuth2
Jira users can now authenticate via OAuth2 for a much more simplified 1-click authentication process without requiring admin rights. Note: due to Jira's API limitation, this feature is only available for instances that have not already authed with Unito.
March 2022
Notion improvements
We now support the Relations field.
Reduced delays for finding databases when building new flows.
Auto-map or start from scratch?
Now, when you map fields in a new flow, you can choose whether you want Unito to map them for you automatically or start from scratch. That'll give you the flexibility your flow needs.
New field support
We've improved multiple integrations this past month, with support for more fields across them. Here they are:
Jira: Story Points, Number Custom Fields, Project Name
ClickUp: List Name, Priority Field, Filter on Labels, Native Tag Mapping & Filtering
GitHub: Created at Field
GitLab: Weight Field
Wrike: Time Spent
February 2022
New Miro integration!
Ever have to manually copy and paste action items from a retrospective in Miro to an Asana project? With our latest integration, that's a thing of the past! Sync Miro cards with work items from over 30 integrations so you can get from brainstorming to delivering faster.
Learn more about this integration here.
New Google Calendar integration!
Wish your calendar was more visible in other tools? Maybe you've always wanted to see high-impact initiatives on your calendar? Either way, you can do it with Unito's newest integration.
Find out what this integration can do here.
January 2022
Ape around with our Mailchimp integration
Mailchimp's a great way to automate all kinds of marketing workflows, from launch campaigns to tactical emails. But without an integration, getting qualified leads and other contacts into other tools involves a ton of manual work. Not anymore.
Get more deals down the pipe with our Pipedrive integration
Your contacts shouldn't be stuck in any platform, especially if you're trying to hit your quotas. With this integration, you can get support from any team, no matter what tool they're working from.
Break out of your inbox with our Outlook integration
Email is still a crucial communication platform for many departments. But without an integration, any contacts you pull in through email will stay stuck there. It doesn't have to be that way.
Learn about our Outlook integration here.
December 2021
Happy holidays!
November 2021 updates
Optimize your Azure DevOps workflows with new features!
We've just made some sweeping improvements to our Azure DevOps integration that include the following:
Support for all work items: That's right, you can now sync Epics, Stories, Issues, and more through our integration. We haven't cracked the nut on task hierarchies for this quite yet, but at least you can sync every type of work item.
Rule improvements: You can now build rules that filter work items by tags, assignees, and state. That way, you can get just as much — or little — information into your other tools as you need.
Learn more about our Azure DevOps integration in our Help Center.
October 2021 updates
Get more out of our ClickUp integration with subtasks!
Subtasks are crucial for getting more work done. You can use them to highlight dependencies, dispatch work, and build deep hierarchies that represent the way your teams work. Now, you can use Unito to sync subtasks from ClickUp to your other work tools! This works great for tools that have epic-story-task hierarchies like Jira. Sync crucial data between tasks without losing your task hierarchy. This was easily the most requested feature from ClickUp users and we're excited to finally launch it!
Learn more about syncing subtasks here.
September 2021 updates
New Notion integration!
Notion is one of the most flexible work management tools out there, and now your Notion database can do even more. With Unito's two-way integrations for Notion, you can sync crucial data out of any work tool back into Notion for better reporting, dashboarding, and more.
Learn more about this integration.
New Google Sheets integration!
Wish your spreadsheets could do more? With Unito's new two-way integration for Google Sheets, you can sync tasks, cards, and more to a sheet and create dynamic reports you never have to update manually. In fact, we use it ourselves to streamline sales reporting throughout Unito.
Learn more about this new integration.
Get more out of Slack with our integration
Go from talk to act faster and skip the middle man with Unito's new two-way Slack integration. Sync messages and replies to your work tools and get task information back in just a few clicks.
May 2021 updates
Our newest integration is Salesforce!
The world's top CRM tool can now be seamlessly integrated with the rest of your tool stack! Unito now offers two-way Salesforce integrations. You can use them to sync leads in from marketing, consult collaborators across the organization, feed performance data up the chain in real-time, and close deals faster than ever before.
Find out everything there is to know about this new offering.
Unito now supports Zoho Projects
Zoho is one of the most comprehensive tools on the market, covering everything from CRM to word processing. Today we've unlocked one of Zoho's most popular solutions: Zoho Projects. Sync your projects to the other key tools in your stack and automate busywork so you can focus on the important stuff.
Learn more about this new integration.
April 2021 updates
Three new tool integrations
We've got a trifecta of new integrations to help you close the gaps in your workflow and break down those tool silos. They are:
With these additions, Unito now offers more than 20 integrations! Break down tool silos and optimize your workflows with Unito.
Do even more with the Airtable integration
By popular demand, Unito's Airtable integration has received an upgrade. You can now map and sync nearly every Airtable field. This means more opportunities to build and customize cross-tool workflows to save you time and effort.
Visit the Airtable integration page for more information.
January 2021 updates
New year new integration: Airtable
Airtable is a low-code platform that has exploded in popularity in the past couple of years. People are using it in a ton of different ways, from storing data, to building apps, to managing entire projects. Now, with our new Unito Airtable integration, we've opened up even more possibilities. You can build your workflows around Airtable, using it as your single source of truth while still collaborating across multiple tools and teams.
Learn more about this new integration here.
ClickUp now fully integrated into Unito
In July of 2020, we launched a beta ClickUp integration to see what you, our users, thought of it. Well it turns out there was a big appetite for it! After all of your feedback and requests, today we're launching a full ClickUp integration! That means more fields, more functionality, and more opportunity to build the ClickUp workflow you need. Find out more about what this integration covers here, or check out how one cybersecurity company is using ClickUp and Unito to collaborate with clients.
Comments and assignees for monday.com
Our work continues on the monday.com integration with Unito. You can now sync comments and assignees between monday.com and all of the other tools we support. Build workflows for delegating tasks, track progress on key initiatives, and provide feedback or make requests in the comment section. If you want to learn more about this integration, check our Help Center here! There's more to come with this monday.com integration, so stay tuned!
October 2020 updates
Smartsheet joins the integration family!
Another one of our most user-requested integrations is finally here. Today Smartsheet joins Unito as our latest integration. Create new sheets from your other work tools, and map and filter how information travels between every app in your work arsenal. There's a reason 75% of Fortune 500 companies use Smartsheet!
Learn more or try out the Smartsheet integration today!
September 2020 updates
Unito's brand new workflows have launched!
After years of speaking with our customers, listening to their needs, and seeing the ways we work evolve, we knew it was time for Unito to evolve too. That's why we are so proud to unveil our brand new workflow management solution! With a new, no-code visual designer and improved cross-tool analytics on the way, you can regain visibility and align your teams like never before.
Learn more or try out our brand new workflow offering!
monday.com is our newest integration!
You asked and we answered! Unito has launched its brand new two-way monday.com integration. The widely-used WorkOS was one of our most requested integrations. That means, monday.com's 100,000 users can now sync their most important workflows to Jira, Trello, and our 10 other supported tools.
Discover more of what the monday.com integration has to offer.
August 2020 updates
Another new integration: Teamwork!
Teamwork is so much more than a project management tool. It's a suite of apps that includes a help desk, a CRM, a chat tool, and more. It's no wonder they've attracted 4 million users in 183 countries, with clients like Disney, Forbes, and Netflix. And now, Teamwork is a Unito integration, meaning all of those users can integrate their favorite tool with the likes of Jira, HubSpot, GitHub, and more!
Learn more about this shiny new Teamwork integration.
July 2020 updates
Our latest integration: ClickUp!
ClickUp, a rising star among project management tools, has now joined Unito's list of integrations. With ClickUp, you can take advantage of a highly customizable platform and advanced features to manage your workload. And with this new Unito integration, you can also integrate it with the specialized tools of your collaborators, from HubSpot to Jira.
Find out more about this new integration.
June 2020 updates
We have something special in the works
We've always strived to listen closely to you, our users. By listening, we can provide a solution that better meets your needs. With that in mind, we're working on an evolution of Unito — one that will help leaders better align teams and improve how you collaborate.
May 2020 updates
An easier way to sign up with Jira
In an effort to simplify the sign-up process, users looking to connect their Jira Cloud account to Unito can now do so right from within the Atlassian marketplace.
You no longer need to leave your Jira instance to access Unito. And once you've signed up, you can also build your syncs directly from within your Jira window.
Find out how to take advantage of this new functionality on our Help Center.
March 2020 updates
Improved Jira filtering
We've introduced even more ways to filter your Jira projects within Unito syncs. You can now filter by:
Components
Status
Fix Version
Epics
and Custom Fields
These are essential for building flexible development workflows. Project and product managers can now plan, deliver, and report on issues, filtering the most relevant information to collaborators on other teams — like filtering by status to report on progress or filtering by fix version to communicate new feature releases.
Sprint and backlog syncing for Jira
Unito users are now able to sync sprint and backlog to sections, columns, and custom fields in connected tools. What does this mean? You can now move things directly from Trello, Asana, Wrike, and other tools into Jira, mapping to sprints and backlogs — or the reverse. This makes it way easier to incorporate Agile sprints and backlogs into your workflow no matter what tool you spend your time in.
February 2020 updates
Sync Asana milestones
Previously, if you used Unito to sync Asana tasks, they would all get synced together, regardless of type. One of the most popular feature requests from Asana users was the ability to sync Asana milestones. Now, thanks to the "task type" filter, you can do just that! This filter allows you to include or exclude milestones from your sync independently of other tasks. You can also specify what you want to sync milestones with, such as Jira epics. Learn more about syncing milestones in our help center.
January 2020 updates
Access synced attachments without a tool account
Unito has always synced attachments between tools, allowing you to share vital documents, images, or anything else with your collaborators. Where previously you needed accounts in both synced tools in order to access attachments, you now only need an account in one of the two. This makes it so much easier for all stakeholders to get the information they need from the tool they're already using. Learn more about attachment syncing on our help center.
Unito syncs 100% of native Trello fields
More Unito users sync Trello than any other tool, and we're thrilled to announce that we now cover all the bases! Trello users can now sync attachments across cards, making Trello-Trello workflows run even more smoothly. With this new functionality, Unito users can sync everything that you find in a normal Trello card.
Duplicate syncs for quicker creation
People use Unito to save themselves time organizing projects and tasks across tools. But now, Unito also saves you time when it comes to… well, using Unito! We've introduced the ability to duplicate syncs, cutting down on setup time and effort. Find the sync you want to duplicate, and in just a few clicks you'll have a brand-new sync ready to go. Learn how to duplicate a sync on our help center.
Mapping users at the workspace level
As long as your users use the same email address for all their tools, Unito can map them automatically, so that all their contributions are attributed to the right person. But if those email addresses didn't match, you used to have to map your users on a sync-by-sync basis. Not anymore! Now you can map users at the workspace level. This means you only need to map them once rather than for every sync. Find out how this works in this help center article.
December 2019 updates
Sync Trello's due date checkbox
Not everyone wants their completed tasks to disappear from view. With that in mind, Trello introduced a feature allowing you to "check off" a due date as a way to show you've finished the card but still keep it on your board.
Due date checkboxes can now be synced across Trello boards using Unito. Use this new feature to more easily track your progress on large projects by checking off due dates instead of completing cards.
New Test Mode allows you to test new syncs
Worried your new sync might mess up your existing tasks and projects? Now you can test the sync before rolling it out to existing tasks. With Test Mode, only new tasks or cards — those you create after building a new sync — will be included. This allows you to build a new sync, then try it out to make sure it works exactly how you want. Once everything is running smoothly, you can turn off test mode and all your existing tasks that fit the sync parameters will also sync over. Learn more about Test Mode on our Help Center.
November 2019 updates
Map column and status separately
We have a special treat for Trello, Basecamp, and Asana users. We've added the ability to map column and status separately! Where before a closed task might automatically end up in a "Done" column, you can now have closed tasks mapped to any column, or open tasks mapped to "Done." This is just one example of a potential use case.
October 2019 updates
Workspace settings update
We've revamped our workspace settings, splitting usage, people, and billing into unique sections. It's never been easier to add collaborators to your workspace, manage active users, or monitor your app usage. Dive in and let us know what you think!
September 2019 updates
New signup and login pages
Whether you're a new customer or an existing Unito user, the next time you go to use the app you might notice some changes: we've given our signup and login pages a makeover! In both instances, the pages are cleaner and easier to use than ever before. You'll simply select your tool from a dropdown menu and get started.
Dating your comments
Any time you sync a comment with Unito, we'll now add a tiny date showing you exactly when that comment was posted. This is a small change but an impactful one, especially for long-term projects with many different collaborators. You can trace back feedback to make sure it was implemented in a timely fashion, see when approvals were made, or use old synced comments to estimate timelines for future work.
August 2019 updates
Sales teams rejoice! Unito releases HubSpot integration
An effective sales team depends on the support of the entire organization. From creating sales collateral to developing new features, all teams have a role to play in the sales process. Now, it's easier than ever for salespeople to collaborate with their colleagues thanks to the Unito HubSpot integration. Sync HubSpot with nine of the biggest work management tools on the market. In just a few minutes, your sales team can be sending sales tasks to collaborators in Trello, Jira, Zendesk, and more. Try it out and let us know what you think!
Lock your lists with Mirror
If you work on a big team, the Unito Mirror Power-Up is a useful tool for collaborating on Trello cards across multiple boards. But as cards start to flow from board to board, you may want to take extra steps to keep everything organized. Admins can now lock the destination list of mirrored cards. Users will still be able to decide what board to send a card to, but all the cards will end up in a list of your choice, so you can triage them appropriately.
July 2019 updates
Signing up for Unito with Jira or Zendesk is now a breeze
If you live in Jira or Zendesk, this update makes setting up Unito a whole lot easier. Where previously you'd have to sign up using a secondary tool like Trello or Asana, and then connect Jira or Zendesk, we've cut out the middleman. Developers and customer service professionals can now use their favorite tools to create their Unito account and start syncing in minutes! (Don't forget to configure your Jira instance to recognize the Unito app before getting started.)

June 2019 Updates
Mirror is now fully supported on desktop and Safari
It's been about two months since the launch of Mirror, Unito's Trello Power-Up allowing you to sync individual cards between multiple boards. We've received so much great feedback from all of our Mirror users since then. Now, we're happy to announce that the power-up is now fully supported on both Trello desktop and Safari.
Invoices made easier
Unito invoices just got a little bit easier to manage. First, we've added the ability to receive your monthly invoices by email. To do so, just jump into your settings by clicking your avatar in the top right corner of your dashboard. Select billing from the dropdown list, and under your billing email check "Please send me a copy of my receipt by email."
Another small change was made so your invoices are listed in order of recency on the billing tab in your dashboard — makes sense, right?
Improvements to our Zendesk integration
The work on our newest integration, Zendesk, hasn't stopped since it was released at the end of April. We've made a number of small additions that we hope will save customer service agents some much-valued time and effort. Among those tweaks is "typehead support." Instead of having to copy and paste or memorize your Zendesk labels, Unito now populates them in the filter settings dialogue.
We've also optimized the way we interact with Zendesk's API. As a result, we can handle syncing very large Zendesk instances much better than we could before.
Are there any updates you'd like to see? Any requests? Let us know in the comments below or on Twitter @unitoio.