How to Sync Trello Cards with Google Calendar Events Automatically in 2023
Share key business milestones, campaign or product launch dates, and other time-sensitive information by learning to sync Trello and Google Calendar with Unito's two-way integration. You'll be creating a flow in Unito, which represents the connection between Trello and Google Calendar with automated real-time updates in your synced cards and events.
This two-way Trello Google Calendar integration has two goals:
Create new Trello cards and/or Google Calendar events automatically whenever the other is created manually. Then, keep those cards and events in a 2-way real-time sync.
Set specific rules to filter unnecessary cards or events from syncing so we only share the information that's most relevant to our use case and team(s).
Here's an example of what a completed Trello Google Calendar looks like with Unito:

Why sync Trello cards to Google Calendar events?
Syncing Trello cards from your board to a shared Google Calendar makes sense for any Trello user from across industries including tech, real estate and property management, manufacturing, advertising or marketing agencies, consulting firms, professional services and many others.
Centralized Task and Calendar Milestone Management
Whether it's to coordinate release management, team activities or initiatives, or sharing marketing campaign schedules, Unito easily syncs all your key dates and milestones from a project management tool directly into a shared team or business Google Calendar.
Personal Productivity Boost
Manage your tasks directly from your calendar, keeping your work hub updated and ensuring you never miss a deadline. Plus, get reminders when a new event is created in your calendar. You can even share calendars between different accounts while keeping personal information private.
Single Source of Truth
Keep track of all your customer engagements in one place, regardless of where the activity was initiated. This ensures you always have an accurate view of your workload and can set more realistic commitments.
Simplified Workflow
Forget about setting up countless zaps to sync your activities. With Unito's workflow designer, you build your integration once, and voila – all your activities are in a single calendar, always updated.
In this Trello Google Calendar integration guide
Feel free to skip ahead if you're already in the middle of building this workflow:
Step 1. Connect Trello and Google Calendar to Unito
Step 2. Pick where Unito automatically creates cards or events
Step 3. Set rules to create Google Calendar events based on specific Trello Cards
Step 4. Set field mappings between Trello cards and Google Calendar events
So let's imagine there's a marketing team in Trello planning their roadmap with a board that includes all the conferences (and dates) they'll be sponsoring and/or attending in 2023.
Each event could have its own card with a list of attendees, details, dates and times, etc. They could build a flow with Unito to sync any cards related to the conference schedule into a shared Google Calendar.
If any changes are made to a card or related event, the other will be automatically updated. That's the power of learning how to sync Trello with Google Calendar.
Add Unito to your Trello Board (optional)
This step is for users who wish to add Unito as a Power-Up to an existing Trello board. You can skip this process if you've already installed Unito or are using the platform directly. Otherwise, click here if you need help adding Unito as a Trello Power-Up. Just don't forget to come back to our guide!
Watch this Trello-Google Calendar sync in action:
Step 1. Connect Trello and Google Calendar to Unito
Navigate to the Unito App and select +Create Flow.
On the next screen, select Start Here to connect Trello and Google Calendar.
Choose the accounts you want connected to Unito. You'll need to specify which account, board, and calendar you wish to sync.
When you connect Google Calendar to Unito for the first time, make sure to select every box in order for your flow to function properly.
When you're ready, hit Confirm.
Step 2. Pick how cards and events will be automatically created
Since our goal in this guide is to maintain visibility in Google Calendar on new events added to the roadmap in Trello, we'll choose a 1-way flow from Trello to Google Calendar.
How does flow direction work? Flow direction tells Unito where to automatically create work items (Trello cards or Google Calendar events) based on your manual activity in the other tool.

If you pick a one-way flow direction, you'll have a source and destination so work items you create in the source will appear in the destination automatically. In our example below, Trello is the source and Google Calendar is the destination.
Step 3. Set rules to create Google Calendar events based on specific Trello Cards
Now we can set up rules to determine which trigger events will send data between our tools. This is our chance to filter out unrelated Trello cards from our Unito flow to Google Calendar.
Tips for using labels for your rules: A great way to filter your cards is by using proper labels and color coding in each tool. If you haven't already done so, head to calendar.google.com and set a name and color for your shared calendar.

Then, stop by Trello.com to create and apply labels to any cards related to your events. These are what Unito will use to identify cards you want it to sync with new events. If you're looking for inspiration, check out Unito's guide on how to make the most out of your Trello labels.
When you're ready, select Add a new trigger to to sync those labeled cards with your specified Google Calendar.
In our demo, we assigned the label "Conference" to any Trello cards related to our schedule. In the above example, only Trello cards with that label will create matching events in our calendar.
Find out more about setting rules.
Step 4. Set field mappings between Trello cards and Google Calendar events
The details of your cards and events are considered fields that need to be mapped (or matched). If you map the description of your card to the description of your event, you'll see the same information appear in both places.
But first, you'll be asked if you want to set up your mappings from scratch or let Unito do it automatically. Auto-mapping just sets up a template you can then edit afterwards.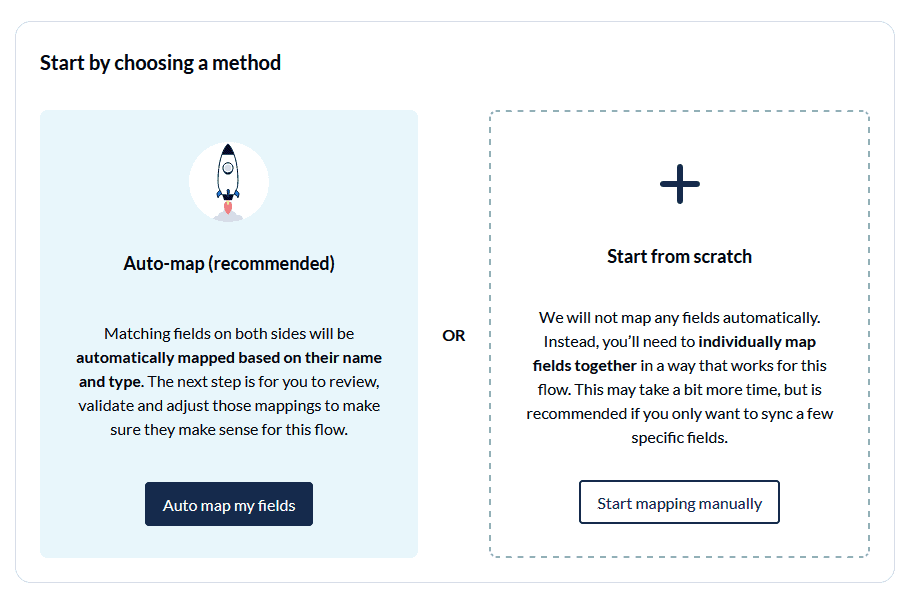 Learn more about which fields can be mapped for Trello and Google Calendar.

Click + Add mapping to sync additional fields, then Select a field for each tool and find the field you wish to map.
NOTE: Unito identifies members and guests by their email address. In order for guests to sync properly, the contact and their email address must appear in, or be added to, both Trello and Google Calendar.
Click Confirm when you're satisfied with your field mappings to proceed.
Find out more about field mappings.
Step 5. Save, close, and launch your Trello – Google Calendar integration!
And that's it! You've just completed a flow between Trello and Google Calendar. Congratulations!

If you've followed the steps above, your flow will now:
Create a card in Trello for every new Google Calendar event with a yellow label created by a specified user.
Create an event in Google Calendar for every Trello card labeled "Milestone"
Sync dates, times, guests, card/event titles and descriptions between your tools and keep them up to date in real-time.
If you have any questions, don't hesitate to reach out and let us know. Our live support team is ready to jump in and lend a hand to make sure your flows always function as intended.
What's next after syncing Trello with Google Calendar?