How To Embed a Google Calendar in Notion (2 Methods)
Can't wait to get started? Follow our walkthrough to connect Notion with Google Calendar now.
If you're a Notion fan, you're probably trying to spend the majority of your work day in the tool. The If you're a Notion fan, you're likely doing most of your work in it. The platform is so flexible that you can build anything in it, from a task manager to a mood board and even an entire knowledge base. But if the rest of your organization is using Google Calendar to keep track of meetings, you've probably found yourself constantly switching between the two tools. That's enough to make anyone want to figure out how to embed Google Calendar in Notion.
Below, you'll find two methods for embedding Google Calendar in Notion. One uses Notion's native embedding feature, and the other uses Unito's integration for Google Calendar.
Method 1: embed a Google Calendar in Notion natively
You can embed a Google Calendar within a Notion page without installing any extra apps or integrations. All you need to do is make your Google Calendar shareable, which will create a unique shareable link. Then, you can use that link to embed your Google Calendar in Notion. Here's how it's done.
First, go to the Google Calendar you want to embed and click on the gear in the upper right corner, then click on Settings.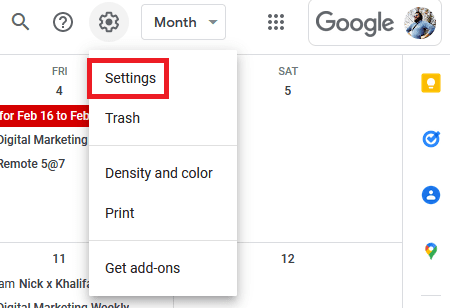 From there, you'll want to look under the Settings for my calendars header and click on the calendar you want to embed. In this example, I'll click on my personal calendar.
After that, scroll down to Access permissions for events and click the checkbox labeled Make available to public.
You'll get a warning about making your calendar public. Click Ok, then scroll down until you reach the Integrate calendar header. Copy the link in the Public URL to this calendar box.
Next, go to the Notion page where you want your Google Calendar to show up. Type /embed then click Embed.
Paste the link you copied and click Embed link.
Wait a few seconds, and you'll see your Google Calendar show up in Notion!
Feel free to resize it and move it around the page. Just like that, you've successfully embedded your Google Calendar in Notion!
Limitations of this method
Using Notion's native Google Calendar embed solution is just one way you can see your events and meetings represented in Notion. Unlike some other methods, it comes with a few limitations.
You can't edit your calendar
When you embed your Google Calendar in Notion, you're essentially creating a read-only view. You can click on a specific event to see the description, and how long the meeting will last, but you'll need to go to Google Calendar to see more information than that.
You also won't be able to add new meetings, move them around, or interact with them in any way. So even though you can see what meetings are coming up without leaving Notion, you won't be able to make any changes to them without switching tabs.
Your calendar has to be public
This is the warning you get when you make your Google Calendar public.
In order to embed your Google Calendar in Notion, you have to make your calendar completely public. Your events and meetings can even show up in Google search.
Don't think that's a problem? Ask your IT department or your organization's cybersecurity specialist. Even your marketing team might have a problem with all your events being public. Everyone, from competitors to malicious attackers, can see your calendar and use the information it contains for their own purposes.
So is there a better way to embed Google Calendar in Notion?
Method 2: Embed Google Calendar events in Notion with Unito
Unito is a no-code workflow management solution with the deepest two-way integrations for some of the market's most popular work tools — including Notion and Google Calendar. With a Unito flow, you can sync meetings and other events from Google Calendar to Notion and the rest of your tool stack. It's like embedding Google Calendar in Notion, except you can actually interact with the meetings you sync to Notion.
Need to make changes to a scheduled meeting? Change the date in Notion, and it'll be automatically reflected in Google Calendar. Adding a last-minute guest? Add them to the meeting in Notion and they'll get an invite from Google Calendar — so they don't miss that crucial update.
Not sure how to start? Here's a Notion template we built specifically for Google Calendar.
Here's what puts Unito above Notion's native Google Calendar embed:
You can edit your calendar: Any changes made in Notion will be automatically synced to Google Calendar. Instead of a read-only view, you get a dynamic meeting tracker you can edit without leaving Notion. Better yet, it's automatically updated with any changes that happen in Google Calendar.
Your calendar doesn't need to be public: Unito takes security seriously. That's why you'll never need to make your Google Calendar events completely public to sync them with the rest of your tool stack.
It supports other tools: Unito has over 30 integrations you can sync with Notion and Google Calendar. That way, you can keep Notion as your all-in-one solution, no matter what tools anyone else is using.
What's next?
Ready to start? Try Unito free for 14 days!
See the power of Unito in action.
If you're already a Unito subscriber, you could check out our related walkthrough content:
Need to know more?
Get a breakdown of Unito's Google Calendar integration and what it can do.