How to Sync Trello and GitHub with a 2-way Integration
This guide will show you how to sync Trello and GitHub with Unito's automated 2-way integration between issues and cards. You can use this workflow to streamline software development management; manage ticket progress; or align comments, assignees, custom fields, and more. Similar steps apply when connecting other project management tools to GitHub, including: Asana, Wrike, Jira, ClickUp and more.
Why sync GitHub and Trello with Unito?
Integrating these tools with Unito saves time for engineers or project managers by eliminating the need to repeatedly switch between GitHub and Trello. This 2-way GitHub-Trello integration makes it easy for anyone to track pull requests, project status, code bugs, commits, feature requests and more. You could enable teams in Trello to triage GitHub development requests, quickly align on feedback, or extend visibility to stakeholders.
Before we integrate GitHub and Trello:
This flow has two primary goals:
Set up a one-way flow to create issues in GitHub based on specific cards in Trello.
Set up a 2-way sync between fields in our issues and cards so that as our team works on the same request in each tool, users of the other will be able to see updates and changes in real-time.
Watch this video overview of Unito's flow builder for GitHub users
Step 1. Connect GitHub and Trello to Unito
Navigate to the Unito App and select +Create Flow. On the next screen, select Start Here to connect GitHub and Trello. Choose the accounts you wish to connect to Unito. Then, specify a single Trello board and GitHub repository.

When you're ready, select Confirm.
Step 2. Choose your Trello-GitHub flow direction
Select the arrow that points from Trello to GitHub.
Since we only want to automate creation of GitHub issues and not Trello cards, we're setting up a one-way flow.
Flow direction determines which of your tools will create new cards or issues in the other. If we had chosen a two-way sync, new GitHub issues would create cards in Trello, in addition to new cards creating issues.

As you'll see in Step 4, we'll later use a two-way flow for individual fields in our cards and issues so that information between.

Select Confirm when you've chosen a flow direction.
Step 3. Select rules to sync Trello cards to GitHub issues
Select Add a new trigger to begin setting your rules. There can be some variability here depending on your particular setup in each tool.
This is where we can set up triggers to determine what actions taken in Trello will cause new issues to appear in GitHub, and where.
In the above example, we've established a set of rules to create GitHub issues in our chosen repository ONLY when the status of a Trello card in our specified board is Open with the label "feature request".
Find out more about setting rules.
Step 4. Set up field mappings between Trello and GitHub
Next, you'll be asked whether you want to set up your fields from scratch or let Unito do so automatically. If you select auto-map, you can change any mappings you want or add custom fields. If you'd rather DIY and know exactly how you want your fields mapped, start from scratch.

What are Field Mappings?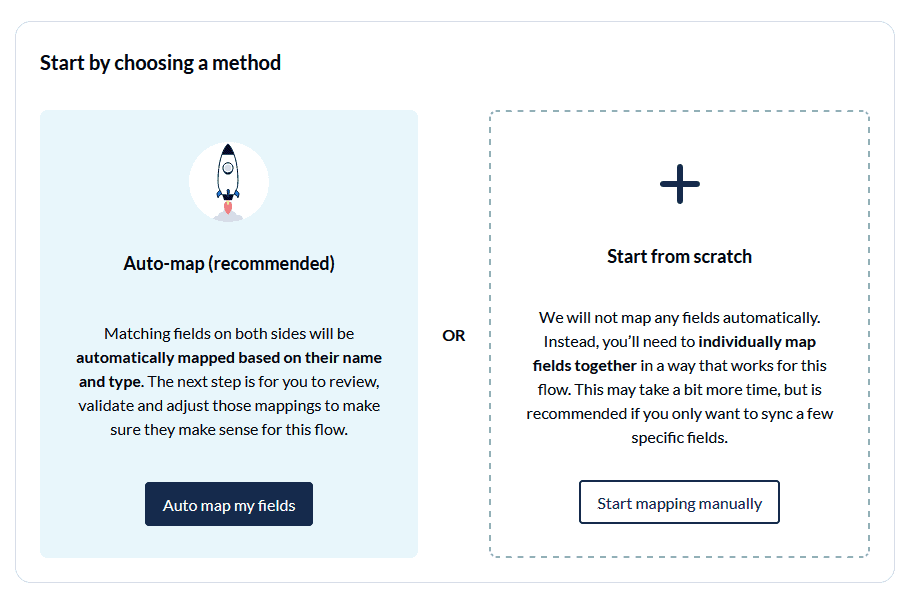 Select + Add mapping, then Select a field in both GitHub and Trello to pair two fields together.
Let's look at our completed set of field mappings and then we'll describe a few in detail:
You can select the gear icon to modify the values of applicable fields.
In our demo, we've set up a repo for feature requests exclusively, so you could imagine bug requests being synced to another repo with a duplicate flow. Why? Since everything here is a feature request, we don't need to label them as such. Instead we can use labels to mark the progress of each card/issue: not started, completed, in progress.

Follow these links to learn more about field mappings and customization options for GitHub and Trello.

Click Confirm when you're satisfied with your field mappings to proceed.
Step 5. Save, close and launch your Trello – GitHub workflow!
And that's it! You've just completed a flow between GitHub and Trello. Congratulations!
If you've followed the steps above, your flow will now:
Create an issue in GitHub based on Trello cards labeled "Feature Requests" from our specified board.
Enable technical and non-technical teams to collaborate between Trello and GitHub with a view on task progress.
Below you can see a few examples of our synced tools:
If you have any questions, don't hesitate to reach out and let us know.
What's next after a 2-way Trello-GitHub integration?
If you're interested in seeing what else you can do with Unito, here are some articles to help you power up your workflows: