How to Sync Trello Cards Between Multiple Accounts
This walkthrough details the steps required to link, or sync, cards between multiple Trello accounts, although similar steps and principles will apply to other Unito integrations. Some popular use cases for this two-way Trello to Trello integration include:
delegating work to a freelance contractor without providing them access to your entire Trello board or account;
sharing project progress with a team lead or client;
establishing a master Trello board that oversees cards across multiple boards;
overseeing work from a single space, reviewing team assignments, and sharing feedback easily.
Why link cards between multiple Trello accounts?
The short answer is: to eliminate manual copy-pasting between cards and boards and to keep those cards and boards updated in real-time automatically. Creating a link between Trello cards across multiple accounts is also extremely useful for collaborating with contacts and colleagues in different departments, locations, industries, etc.
The idea is to populate your Trello cards with details from other Trello cards automatically, without having to ask for an update or search for someone else's board. For example, you could link cards together to create a Trello master board that oversees several projects, giving you an overview of all the work you and your teams are responsible for.
But that's only the beginning of what Unito can help you do by syncing Trello cards across multiple projects, boards or accounts.
Before we sync Trello cards between accounts with Unito:
This walkthrough will guide you through the steps necessary to build a two-way sync between Trello boards that establishes a link between cards. Before you jump in, just make sure you have an account in Trello with the right permissions to access and modify cards in each board you connect to Unito.
The goal of this flow is to create a two-way link between Trello boards that syncs all relevant information between cards. How you then use it is entirely up to you based on your use case. Feel free to expand on it when you're finished with the guide and make it work for you!
Add Unito to your Trello Board (optional)
This step is for users who wish to add Unito as a Power-Up to an existing Trello board. You can skip this process if you've already installed Unito or are using the platform directly. Otherwise, click here if you need help adding Unito as a Trello Power-Up. Just don't forget to come back to our guide!
Step 1. Connect your Trello account(s) and boards to Unito
Navigate to the Unito App and select +Create Flow. On the next screen, select Start Here to connect a Trello account. Choose the accounts you want to connect. In this walkthrough, we've already created a board in Trello that we've named "Master Board" which we'll connect on the left-hand side, with our other board on the right. You'll need to specify which account(s) you wish to connect through Unito, as well as the Trello Board.
When you're ready, click Confirm.
Step 2. Set a flow direction to automate creation of Trello cards
Flow direction determines how new cards are automatically generated in Trello by Unito. Your data can sync either from one board to the other, or bidirectionally (back and forth).
Here's a breakdown of each option:
One-way flow: only cards created in the source Trello board will appear in the destination Trello board.
Two-way flow: cards created in either Trello board will appear in the other.
Select Confirm when you've chosen a flow direction.
Step 3. Set conditions for how and when your Trello cards will sync
Next, we'll set up rules to determine which triggers will create new cards in our Trello boards. Select Add a new trigger to establish your rules for each directional flow.
These triggers will help you keep the most relevant information in sync and avoid oversharing unnecessary details. There can be a lot of variability here that will depend on your particular needs and Trello setup. You can apply custom labels to your cards if you want to be even more precise about what data you want to share:
As you can see from our demo above, only cards with a purple label in Master Board will then appear in our ABC board. Some use cases for this set of rules could include: providing feedback to your team, creating and delegating to-do's, or sharing specific details with an external contractor, client or other contact.
Next, we'll set up a similar set of rules to sync cards back to our master board.
Select Confirm to proceed.
Find out more about setting rules.
Step 4. Choose which fields to sync between Trello cards
Fields represent the details of your Trello cards: people, comments, attachments, due dates, etc. All of these count as syncable fields in Unito.
When you first open this screen, you should see two options. If you select Auto-map, Unito will pre-populate a list of suggested field mappings which you can then adjust. If you know exactly how you want your fields mapped, Start from scratch.
Learn more about field mappings in Trello.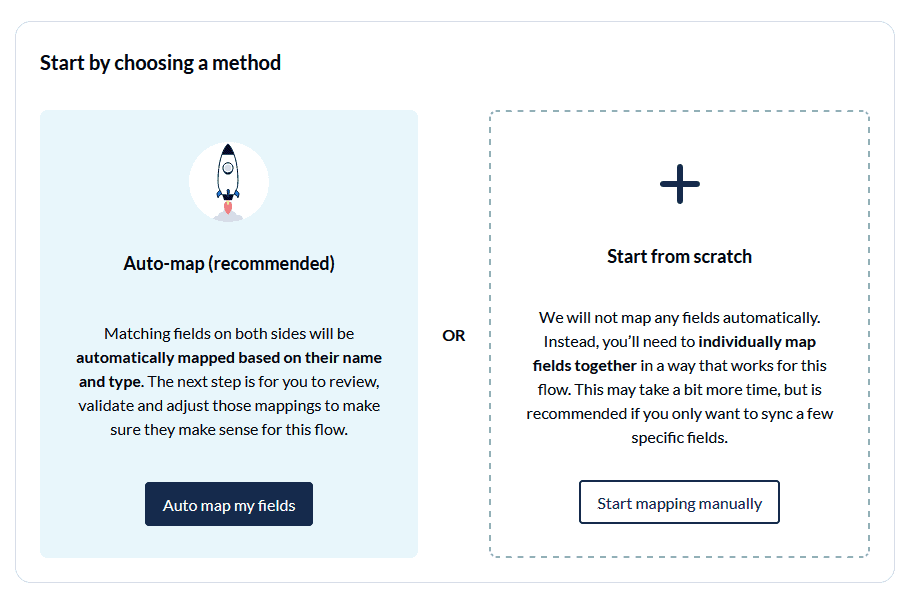 Now, select + Add mapping to sync additional fields. To do so, click Select a field. After you've chosen a field in the first board, Unito will suggest compatible matches in the second after you click on the drop-down menu.
Select the gear icon beside a field to customize values or statuses and further customize your flow. In our demo, we have told the system to match cards within each Trello board based on label color.
Below is an example of our completed demo, although your field mappings may differ based on the needs of your flow.
Hit Confirm to proceed.
Find out more about setting field mappings.
Step 5. Save, close, and launch your Trello-Trello card sync
And that's it! You've just completed our quick-start walkthrough to sync Trello boards. Congratulations!

By following the steps above, you should now be able to sync cards from one Trello board to a master board. You can also duplicate this flow to sync other boards to your master board with Unito.
If you have any questions, don't hesitate to reach out and let us know.
What's next?