Google Sheets Project Management: What It Is and 15 Templates That Make It Easier
Every team has that one collaborator who does everything out of spreadsheets. Writing copy for a new ad campaign? Spreadsheet. Doing SEO research? Spreadsheet. Tracking integrated apps? Spreadsheet. Taking votes for their manager's birthday present? Multiple spreadsheets. But when it comes to project management, is Google Sheets the right choice?
Well, yes. There are plenty of great reasons why Google Sheets can be your project management tool of choice. That, and there are plenty of resources out there that do most of the work for you. Let's dive in.
Just want the templates? Skip here.
What is Google Sheets project management?
Project management is a complex discipline that encapsulates all the techniques, methods, and tools someone can use to make sure a project goes off without a hitch. In simpler terms, it's everything you do to get your project across the finish line on time and on budget.
Google Sheets is a cloud-based spreadsheet tool so flexible you can use it to build reports, store data, and so much more.
Put the two together, and you get Google Sheets project management, which means using spreadsheets as a hub for managing your projects. Because the tool is so flexible, you can use it to manage any kind of project, with teams of any size.
The benefits of using Google Sheets for project management
There's no shortage of project management tools out there. So why use Google Sheets in the first place? Well, the tool does come with a number of advantages.
It's everywhere
Every organization uses spreadsheets for budgets, resource tracking, dashboarding, data analysis, and more. Since the Google Suite is so prevalent, Sheets is the natural spreadsheet tool of choice. In fact, it's estimated that over 2 billion people use it. That's nearly twice as many users as Microsoft Excel.
It's simple
Google Sheets' more advanced features might take some getting used to, but getting up-and-running doesn't. Some project management tools can have a bit of a learning curve. You need to learn a new interface and new terms, and that's just before figuring out how the thing works. Spreadsheets have been so common for so long that getting started is no more than a speed bump.
It's purpose-built for collaboration
One of Google Sheets' strongest features is the ability to collaborate in real time. Anyone who has access to a spreadsheet can leave comments, make edits, and suggest changes. That means you don't have to build a project management sheet all by yourself. You can get feedback, assistance, and approval all without having a meeting.
It's free
That alone can make Google Sheets a central pillar of any tool stack. When dedicated project management tools can cost hundreds of dollars a month for larger organizations, free tools can be a lifesaver.
15 project management templates for Google Sheets
Now that you know why Google Sheets project management works, let's go over the best free project management templates from around the internet.
Unito's Trello progress report template for Google Sheets
Trello's a great project management tool, but its reporting features aren't necessarily the strongest. That's where this template comes in. Combined with a Unito flow between Google Sheets and Trello, this template can create an automated report that lets everyone know how your projects in Trello are going.
Dynamic progress report template
Building a report involves consolidating data from multiple sources and turning it into something people can use. And you're usually doing that process over, and over, and over again.
With this template for Google Sheets, you don't have to do any of that work. By building a Unito flow, you can connect your Google Sheets report to all your work tools and automatically populate it with up-to-date information. No more manually updating reports.
Gantt chart template
A Gantt chart plots all the work that needs to happen on a timeline. The vertical axis on the left tracks the work that gets done, and the horizontal axis represents the time each task will take to get done. With this project management template for Google Sheets, you can build Gantt charts without any dedicated tools.
Sales dashboard template
Running a project that involves a sales team? Then you need the ability to track new accounts, trials, and other important sales metrics. If you don't have a dedicated tool to manage this for the sales team, you can use this template to make Google Sheets into a robust sales hub.
Resource requirement chart template
Resource management is one of the key parts of project management, so you need a way to track resources. Plus, if you're working across teams, you need to be able to figure out dependencies and how different levels of bandwidth can impact project deliverables.
Project communication plan
Communication is a key component of any successful project. It's part of managing stakeholders, keeping expectations realistic, and making sure everyone sticks to the plan. With this template, you can plan out every bit of communication through a Google Sheet.
Monthly expense tracker
One of the main concerns in project management is making sure a project stays on budget. After all, it's one thing to get your projects across the finish line, but if you're always busting your budget you'll start raising eyebrows. This simple expense tracker can help you track how much cash your project is burning over time.
Want to get your data out of Google Sheets?
Build reports or just get more out of your tools. Unito can pull data into Google Sheets or push it to other tools and keep it all in sync).
Financial statements template
One of the biggest challenges of project management is tracking where every dollar goes. No matter the size of your project, stakeholders love knowing how you're spending your budget. With this template, you can produce regular statements that show everyone you're using that money wisely.
Agile Google Sheets project management template
Agile is project management methodology that comes out of the software development world, which values prototypes over documentation, evolving solutions over concrete plans, and relies on collaboration between cross-functional teams. With this template, you can run Agile projects right out of Google Sheets.
Event marketing timeline template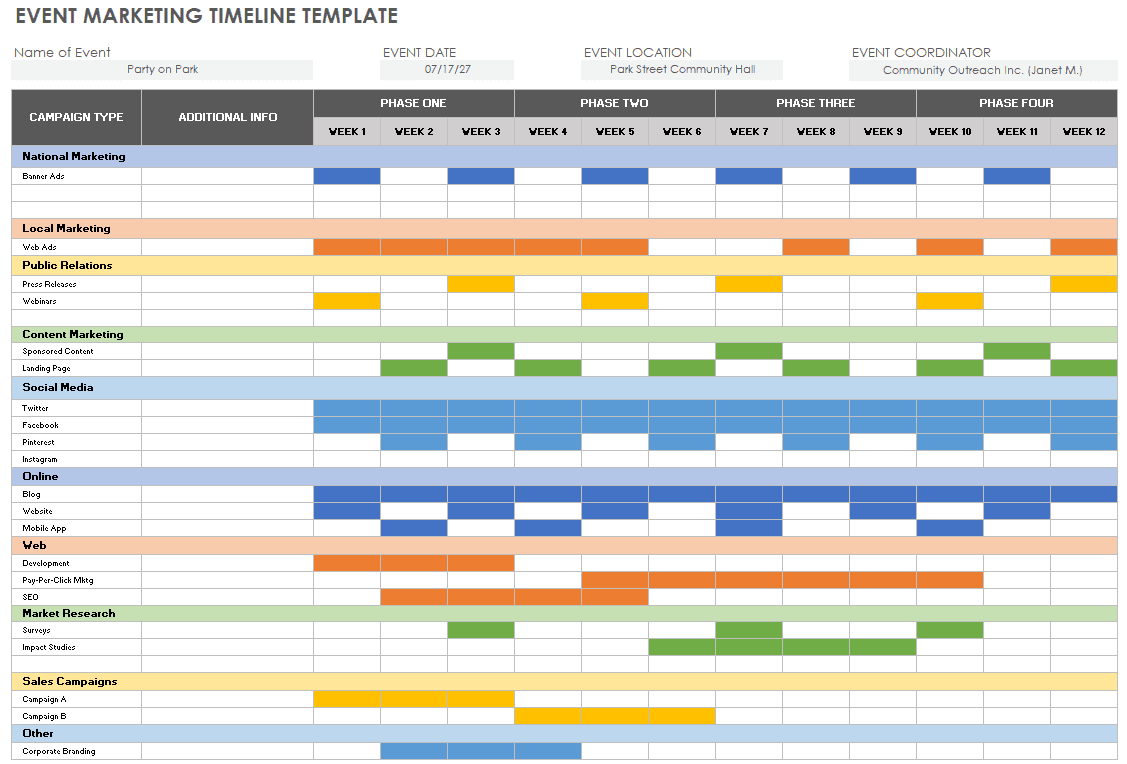 Managing marketing events? There are so many moving pieces to track, collaborators to follow up with, and dates to remember that you need a system to keep up with it all. With this template, you don't even need a big project management tool to do it.
Report building template
Want a quick, easy way to create reports in Google Sheets? Maybe you don't need pretty charts or fancy graphs, but you still want some way to report on important data. This is the template for you.
Simple issue tracking project management Google Sheets template
Whether you're tracking bugs for a software project or issues that come up during your project, you need a system that's a bit more robust than a notebook full of handwritten notes. With this template, you can turn any spreadsheet into a simple way to track issues.
Project plan Template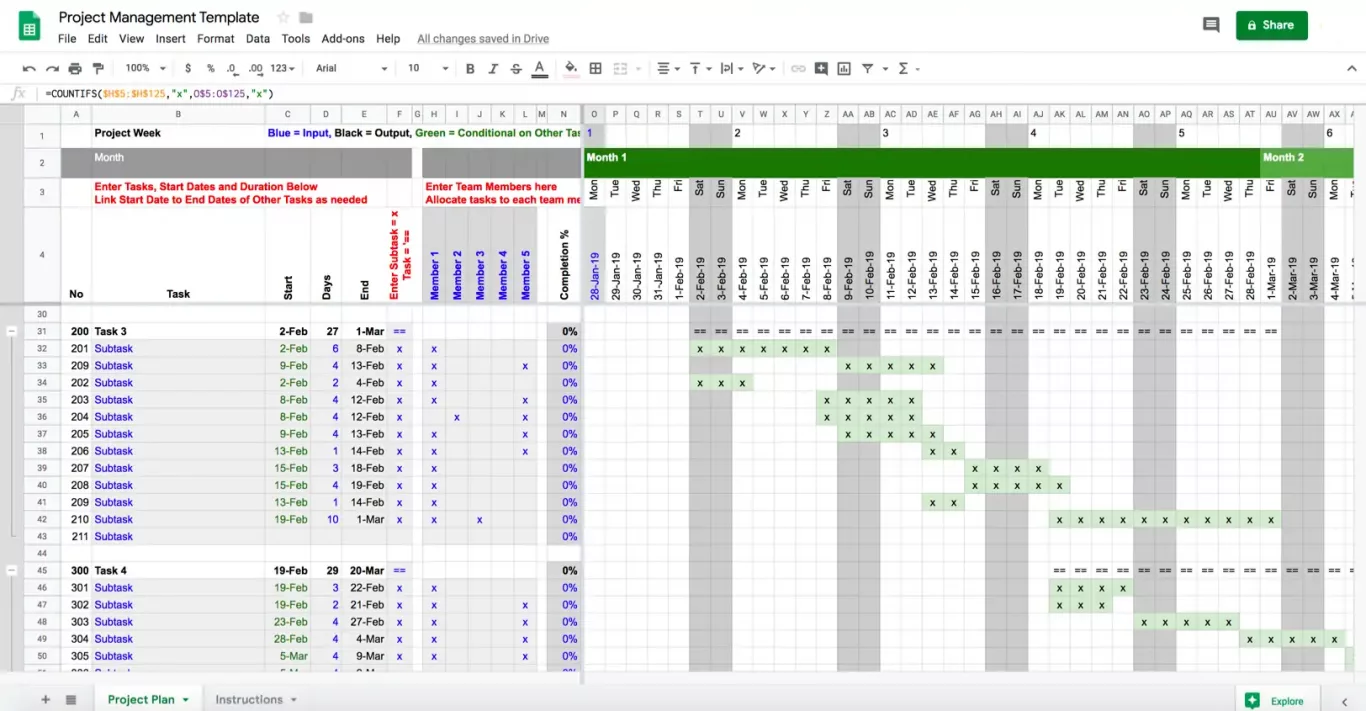 This template is one of the closest to a dedicated project management tool you'll find. Create tasks, subtasks, assign work, and even monitor completion and workload all from the same sheet.
Project charter template
Embarking on a new project without making a plan is a bit like going on a three-day hike without a map. Best case scenario, you just go a bit off track. Worst case, you need a helicopter to get you out. If your organization doesn't have a helicopter, you can use this template to plan your projects before you start.
Daily project timeline template
Some projects need in-depth review on the daily to make sure everything's progressing smoothly. While a project management tool is usually the best way to do that, getting such a tool doesn't always make sense for all organizations. With this template, you can do that tracking without adding an expensive tool to your stack. You can also get weekly and monthly versions of this template.
How Unito makes Google Sheets project management even stronger
You've learned that Google Sheets project management is not just possible, but powerful. You've gained access to some templates to make it easier. But that's not all you can do.
Google Sheets is a great tool, but that doesn't mean it's the go-to for every kind of work. Some teams need specialized tools. Developers might use Jira for squashing bugs and working on your product's next best feature. Your sales team might never leave Salesforce or HubSpot, where they can see every detail of a new deal. You can set up your Sheets with the best project management template out there, but what if your collaborators already have their own setup? What do you do? Abandon ship and jump over to their tool? That's not always possible, and usually not desirable.
Instead, you can use Unito. We even have a few handy step-by-step guides to help you get started by connecting Google Sheets with:
Unito has some of the deepest two-way integrations on the market for the world's most popular work tools. You can sync crucial information back and forth between the apps your teams need to get things done. If you're working in Google Sheets, Unito can pull crucial information out of any other tool in your organization and automatically plug it into your Sheet. And when you do your own work, Unito sends updates back to other teams in real-time.
Departments at the municipality of Järfälla use Unito to sync important updates from Trello to Google Sheets. That way, project managers and other leaders know who's blitzing through their tasks and who needs help. It improves the team's performance, cuts down on the number of emails they send, and keeps crucial data updated at all times. Here's how they do it.
The best part? Unito has a free 14-day trial so you can try this too.
Ready to do this yourself?
Try Unito for 14 days, absolutely free.