How to Easily Export Typeform Responses to Google Sheets Automatically
Are you finding it difficult to easily collate Typeform responses in Google Sheets? It's no secret that collecting form data is common practice for businesses, researchers and educators. Typeform has emerged as a powerful tool for creating optimally engaging forms, surveys and questionnaires. But managing and analyzing your responses in a spreadsheet with the latest data requires a lot of manual input.
So, how can you efficiently export your Typeform responses into Google Sheets without CSV files and reduce the time you spend carefully formatting the new spreadsheet to match your needs? With Unito!
By the end of this article, you'll be able to automatically export Typeform responses as entries in Google Sheets whenever new forms are completed. So your Google Sheet will always be an up-to-date source of truth for your team.
Why export Typeform responses to Google Sheets with Unito?
Typeform's native features for data analysis are somewhat limited, especially when you want to manipulate the data or get more insights.
Native integrations are limiting
Typeform's native integration with Google Sheets is capped at 3000 rows, limiting the amount of data you can work with. Not to mention that exporting form data manually can be a tedious process that takes time.
Unito keeps things simple, yet efficient
Unito automatically exports Typeform responses as entries in Google Sheets whenever new responses are completed in Typeform. Not only does that save time, but it also allows you to skip batch exports, then manipulate and analyze the latest data as it rolls in from the comfort of a familiar spreadsheet.
Plus, Unito's options for customization and personalization enable you to add your own twist on each flow with carefully selected rules and field mappings, enhancing the value of your data.
Enrich your data, skip manual exports, and do more with a unified source of truth
This solution eliminates the pain points associated with manual data exports by leveraging Unito's automated sync capabilities to update your spreadsheet as new information comes in from Typeform periodically.
Moreover, Unito allows you to sync historical responses, not just new ones, so you can apply your rules to all Typeform responses in your forms, making sure no valuable data slips through the cracks.
Watch Unito's Typeform to Google Sheets integration in action
By the end of this guide, you'll be able to:
Generate new rows in Google Sheets or Microsoft Excel whenever new Typeform responses are completed.
Keep your spreadsheets automatically up-to-date with synced fields between your tools.
Before connecting Typeform and Google Sheets to Unito
If you don't know how to categorize the data you want synced from Typeform, you can use our Google Sheets template and/or Microsoft Excel template to get started.
Step 1: Connect Typeform and Google Sheets to Unito
Navigate to the Unito App and select +Create Flow.
On the next screen, select Start Here to connect Typeform and Google Sheets.
Choose the accounts you want connected to Unito. You'll need to specify which spreadsheet and form you're syncing.
When you're ready, hit Confirm.
Step 2. Confirm a one-way flow direction from Typeform to Google Sheets
Since our goal in this guide is to export responses from Typeform to Google Sheets, we'll simply confirm the one-way flow direction here.
What is Flow Direction? Flow direction tells Unito where and how to create new work items (form responses or spreadsheet rows) automatically, based on your manual activity. There's always a source and destination. In this example, Typeform is the source and Google Sheets in the destination.
Step 3: Set rules to create spreadsheet rows based on specific Typeform responses
Now you can pick rules to determine which triggers will create rows in your spreadsheet based on your Typeform responses. Only forms that match your rules will be become spreadsheet rows.
For instance, you can choose to only sync Typeform responses that are tagged with a specific label, such as "Sheet Sync."
Find out more about setting rules.
Step 4. Pick what to keep in sync from your Typeform responses to Google Sheets
The details of your forms and spreadsheets are considered fields you can sync with Unito. If you map a question in your forms to a column in your spreadsheet, you'll see the same information in both places. Changes you make to Typeform will then appear in your spreadsheet (but not the other way around with this integration).
At this screen, select Start from scratch.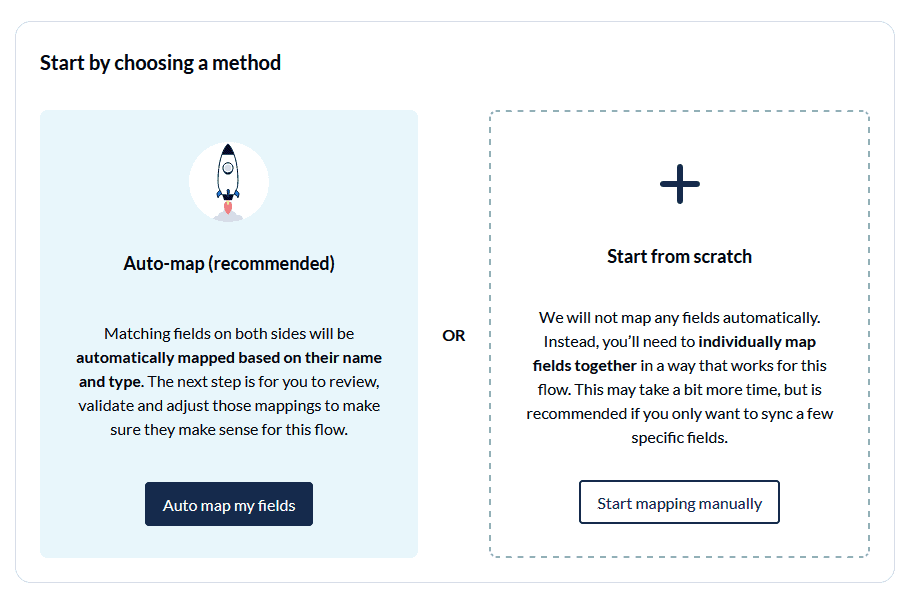 Click + Add mapping to sync additional fields, then Select a field for each tool and find the field you wish to map.
Here's an example of our demo's mappings between Typeform and Google Sheets:
Click Confirm to proceed.
Find out more about field mappings.
Step 5. Save, close, and launch your Typeform to Google Sheets integration!
And that's it! You've just completed a flow between Typeform and Google Sheets. Congratulations!

If you've followed the steps above, your flow will now create a row in your spreadsheet for every new Typeform response and sync changes one-way from Typeform to Google Sheets.
If you have any questions, don't hesitate to reach out and let us know. Our live support team is ready to jump in and lend a hand to make sure your flows always function as intended.
What's next after exporting Typeform to Google Sheets?