How to Sync Jira Issues and Wrike Tasks with Automated 2-Way Updates
Efficient project management and seamless collaboration are not just nice-to-haves — they're absolute necessities. This may seem obvious, but it's an issue that's getting harder and harder for technical teams to manage with thousands of possible work apps and tools available on the market.
There are currently over 17,000 SaaS companies based in the US alone as part of an industry worth more than $195 billion USD. The ability to work fluidly across different platforms can be the difference between a successful project and one that falls short. That's where the power of integrating tools such as Wrike and Jira comes into play.
Unito's 2-way integration allows you to seamlessly sync Wrike tasks to Jira issues, bringing together project management and software development teams like never before. This creates a unified workflow, enabling team members to stay within their preferred platforms while maintaining clear and efficient communication.
Tasks manually created in Wrike automatically become issues in Jira and vice versa with 2-way updates, so changes on either end are reflected in both tools. The benefits of this integration are manifold: enhanced productivity, reduced miscommunication, and improved project outcomes.
Here's an example of what our completed integration with Unito looks like:
This guide will show you how Unito can integrate Jira with Wrike in an automated two-way sync between issues and tasks. Similar steps will apply to other project management tools synced to Jira, including: Asana, Trello, monday.com, ClickUp and more. There are two main goals of this integration:
Create issues in Jira based on specific tasks in Wrike with matching fields, e.g., descriptions, titles, attachments, etc.
Maintain a real-time two-way sync between these tasks and issues so that teams can continue to work and share their progress automatically without notifying others manually.
Why Connect Jira and Wrike to Unito?
Integrating Jira and Wrike with Unito can help teams that aren't familiar with Jira collaborate more effectively with a development team. This can be especially useful for project managers trying to manage technical and non-technical projects at the same time without needing to switch back and forth between each tool. You can triage development requests from Wrike to Jira, align on feedback, or extend visibility to stakeholders.
Find out more in this pre-recorded webinar:
Before we begin syncing Jira and Wrike with Unito:
The Jira account connected to Unito must have administrator access with global permissions.
You'll need to configure Jira for Unito access before building your flow, if you have not previously done so.
You can connect your Wrike projects or folders directly from Unito's standalone sync platform, or from the Wrike interface with the Wrike Sync (Project Syncs) extension. The experience is similar and your work will appear in both regardless of where you create a flow.
You may want to create a planning folder in Wrike to act as a workspace for anything you want to plan, track and coordinate. Move or tag any relevant Wrike projects over to your planning folder. This will, of course, include the Jira projects we'll be syncing.
Step 1. Connect Jira and Wrike to Unito
From the Unito App (or Wrike Sync) select +Create Flow. On the next screen, select Start Here to connect Jira and Wrike. Choose the accounts you wish to connect to Unito. Then, specify a single Wrike folder and Jira project.

When you're ready, select Confirm.
Step 2. Set a flow direction to automatically create Jira issues or Wrike tasks with Unito
The directional arrow you choose tells Unito where to automatically create new issues or tasks based on your manual activity. If you select a two-way flow here, then both tools will be able to create and sync work items (issues and tasks) in the other.
For our demo, we only want to automate creation of Jira issues and not Wrike tasks, so we're setting up a one-way flow. Feel free to adapt this guide to your use case.
Select Confirm when you've chosen a flow direction.
Learn more about flow directions.
Step 3. Set rules to determine which Jira issues and Wrike tasks to sync with Unito
Select Add a new trigger to begin setting your rules. There can be some variability here depending on your particular setup in each tool.
In short, your rules let you set filters to prevent unneeded work items from syncing.
Find out more about setting rules.
Step 4. Pick fields to keep in sync between Jira issues and Wrike tasks
Next, you'll be asked whether you want to set up your fields from scratch or let Unito do so automatically. If you select auto-map, you can change any mappings you want or add custom fields. If you'd rather DIY and know exactly how you want your fields mapped, start from scratch.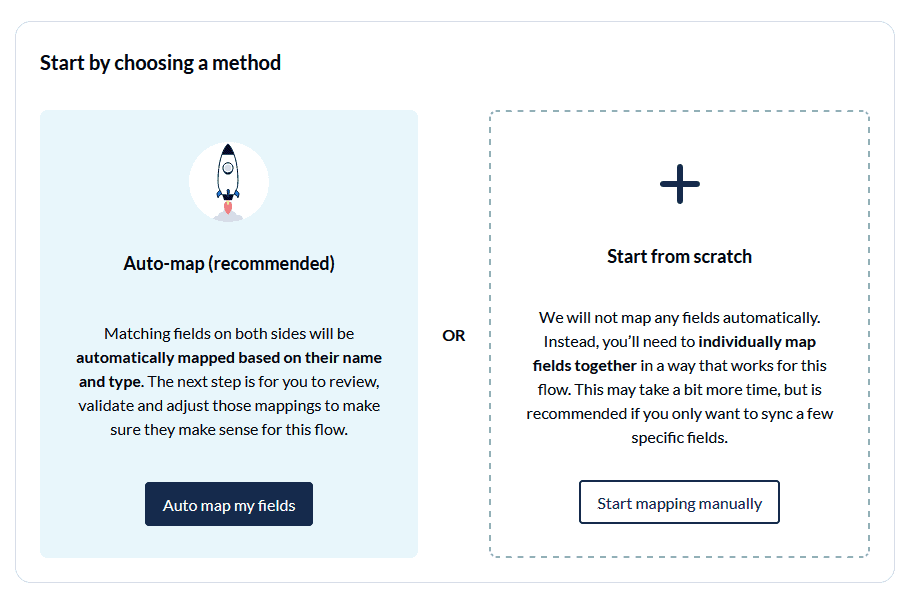 Select + Add mapping, then Select a field in both Jira and Wrike to pair two fields together.

Choosing fields allows you to carefully select which details are synced between Jira and Wrike. Each field can be synced one-way in either direction or bidirectionally.
The above example shows you all the fields you need to map to match our demo's use case. As you can see, comments in Wrike become comments in Jira, subtasks become subtasks and so on. Choosing a flow direction for each field mapping determines whether or not changes in one tool will be reflected in the other.
Learn more about Field Mappings
Click Confirm when you're satisfied with your field mappings to proceed.
Step 5. Save and launch your new Jira Wrike integration
And that's it! You've just completed a flow between Jira and Wrike. Congratulations!
If you've followed the steps above, your flow will now:
Create an issue in Jira based on Wrike tasks in our "Feature Requests" folder.
Enable technical and non-technical teams to collaborate between Wrike and Jira with a better view on task progress.

If you have any questions, don't hesitate to reach out and let us know.
What's next after syncing Jira and Wrike with Unito?
Now that you've set up your integration between Wrike and Jira, you can duplicate this workflow to also submit bug reports from Wrike simply by changing the "feature request" label in the rules section to "bug reports." Otherwise, here are a few additional Unito use cases you might be interested in: