How to Easily Integrate Salesforce with Wrike
This guide will show you how to easily integrate Salesforce with Wrike to sync opportunities, contacts, or tasks in real-time. By the end you'll be able to save yourself hours of work by automating the creation of new Wrike tasks based on your Salesforce activity, or vice versa. That's the power of two-way automation: you can send data to or from either of these popular work management tools. The first step is to figure out what you're trying to accomplish and who you want to collaborate with. So let's dive in.
Why integrate Salesforce with Wrike?
Automation saves time, effort and expense
Salesforce is an incredibly popular, versatile CRM with tons of add-ons, products, and options to help you achieve your business goals. But if sales reps need help from another department, perhaps the professional services team working in Wrike, how do they communicate? Perhaps one of the project managers has access to Wrike and Salesforce accounts to jump back and forth, or maybe everyone does. If that's the case though, how much is your organization spending on unnecessary additional licenses?
Let's assume no extra seats then, or very few. Maybe they communicate and collaborate via Slack, another instant messaging service, via email or text. In any case, all of those channels can become pitfalls where information gets lost, people lost track of the latest information, and delays pile up. For your sales reps, and more importantly – the customer, that can become a problem that snowballs very quickly.
Set up a two-way workflow that turns opportunities into tasks and vice versa
An automated workflow circumvents human error, delays and other obstacles by keeping both teams in touch from their preferred interfaces. Sales reps continue to work in Salesforce, while your professional services team or project managers stay in Wrike. Each opportunity can become a Wrike task (or vice versa) and changes in either app can appear instantly in the other so no one needs to be manually notified or updated as work progresses.
Setting up that automated workflow may sound daunting, most third party platforms require someone with technical expertise, a lengthy implementation schedule, and a big budget. But the beauty of a no-code solution, such as Unito, is that you can skip those headaches by automating the flow of data on your own with guides like this one! Sending Salesforce opportunity details into Wrike through Unito is as straightforward as setting a few simple triggers that tell the platform which opportunities to sync, and where in Wrike to send them. It's all point-and-click and we're here to help if you have any questions.
Let's integrate Wrike with Salesforce
Although this guide will demonstrate a 2-way sync between Wrike tasks and Salesforce opportunities, you can adapt the steps within to suit your use case and other tools as well.
New to Unito? Here's an overview of our Salesforce-Wrike integration. But if you're ready to start syncing opportunities and tasks, read on below.
By the end of this walkthrough, you'll be able to:
Automatically create Wrike tasks based on specific Salesforce opportunities and keep both in a real-time, two-way sync.
Create Salesforce opportunities, contacts, or tasks based on specific Wrike tasks and keep both in a real-time, two-way sync.
Sync custom fields between Wrike and Zendesk or apply them as automation triggers.
Here's a quick peek at our demo sync between Wrike and Salesforce:
Before we connect Wrike and Salesforce to Unito
Watch this video or follow the steps below to connect your tools to Unito:
Step 1. Connect Salesforce and Wrike to Unito
Continue from your Wrike interface or navigate to the Unito App and +Create Flow.
Click Start Here to connect your Wrike project or folder, and Salesforce organization.
Choose the accounts you want to connect.
When you connect each tool for the first time, make sure to authorize both in Unito in order for your tasks, opportunities, or contacts to sync properly.
Specify which account, board, and project you wish to sync through Unito. Here is an example of our completed tool connection screen:
When you're ready, click Confirm.
Step 2. Set a flow direction for task, opportunity, or contact creation between Wrike and Salesforce
Here you can decide whether to automate creation of work items (tasks, opportunities, or contacts) in Wrike, Salesforce, or both based on activity in either app. Later, we can tell Unito to keep those work items in a two-way, real-time sync.
Step 3. Decide how work will sync between Salesforce and Wrike
Unito lets you set customizable rules to filter out specific work items between Wrike and Salesforce. So if you only want a specific group of tasks, opportunities, or contacts to appear in your other tool, you can decide that here.
You can filter by most fields, although some are more effective than others. Fields with single or multiple-select options (e.g., Salesforce stages) are best since Unito can identify them all. Further down we c an even specify where a task should go, who it should be assigned to and more:
Find out more about setting rules.
Step 4. Pick fields to sync between Salesforce and Wrike
When you first reach this screen, you'll see two options. If you select Auto-map, Unito will pre-populate a list of suggested field mappings which you can then adjust. If you know exactly how you want your fields mapped, Start from scratch.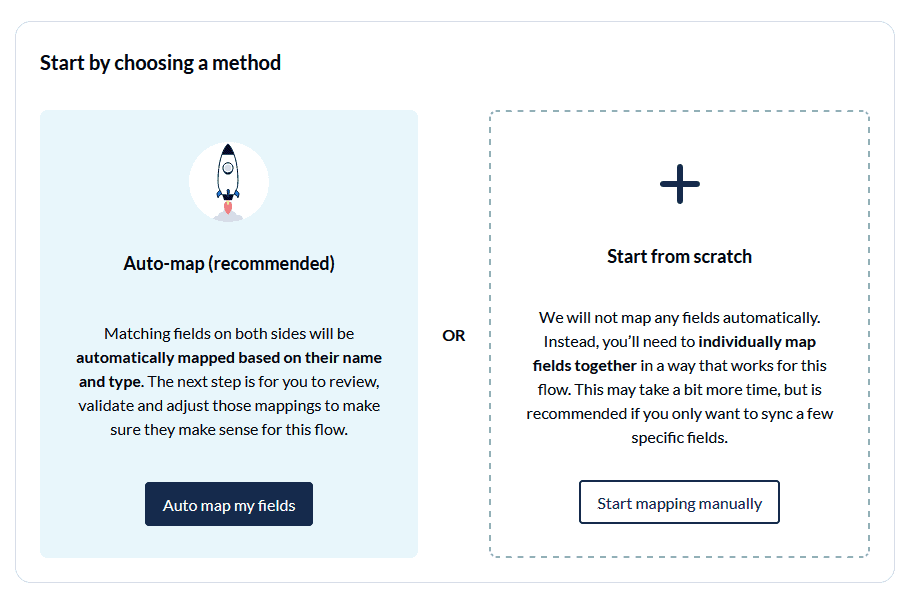 Now, select + Add mapping to sync additional fields. To do so, click Select a field. After you've chosen a field in the first board, Unito will suggest compatible matches in the second after you click on the drop-down menu.
Any field with a cog/gear icon be customized to map values for multi-select fields (e.g., status, priority, etc…).
Find out more about setting field mappings.
Step 5. Save, close, and launch your Wrike to Salesforce sync
And that's it! You've just completed our walkthrough to connect Salesforce with Wrike to sync tasks, opportunities or contacts with Unito. Congratulations! If you have any questions, don't hesitate to reach out to our team by clicking the little chat box in the lower-right corner of your screen.
What's next?