Notion Project Management: How It Works and What You'll Need
You've heard the grumbles across your team. The current system isn't working and it's causing missed deadlines, more work, and a bunch of headaches. You know you need a change, and you want to give Notion project management a try.
Notion is one of the most flexible work tools out there, and it's used for everything from building databases to personal productivity and more. But if you want to use it for project management, here are five things you'll need to take care of first.
What is Notion?
According to the folks at Notion themselves, Notion is a single workspace every team can rely on to get their work done. It's a strong documentation platform, a database builder, a project management tool, and more. Because it's so flexible, you can make Notion into anything you need it to be and customize it as you work.
One of the great things about Notion is the vast amount of templates out there, meaning you don't necessarily need to build any of it yourself. Just find a template that works for you and add it to your workspace. It makes Notion project management a lot smoother.
How does Notion work?
Where another project management tool might have tasks and projects, Notion has blocks and pages. You use blocks to create pages in Notion. A block can be just about anything, from a paragraph to a piece of media to a table. A page is usually built from blocks, the same way you might build a website in WordPress. One level up from pages are databases which are, you guessed it, made up of multiple pages. Usually, Notion project management will depend on one of these databases. Here are the ones you can build with Notion.
Table
Love your spreadsheets? Notion's tables are part database, part reporting tool. Add fields for everything from tags to phone numbers, filter information by specific data points, use formulas, and everything else you'd expect from a spreadsheet.
Board
Die-hard Kanban fan? Notion's boards let you track work with this classic methodology. Move cards between columns, open them to add more information, and get more done.
List
Need to keep things a bit simpler? A List page will automatically come with three sub-pages. You could use this database to list customers, keep tasks ordered by priority, and more.
Calendar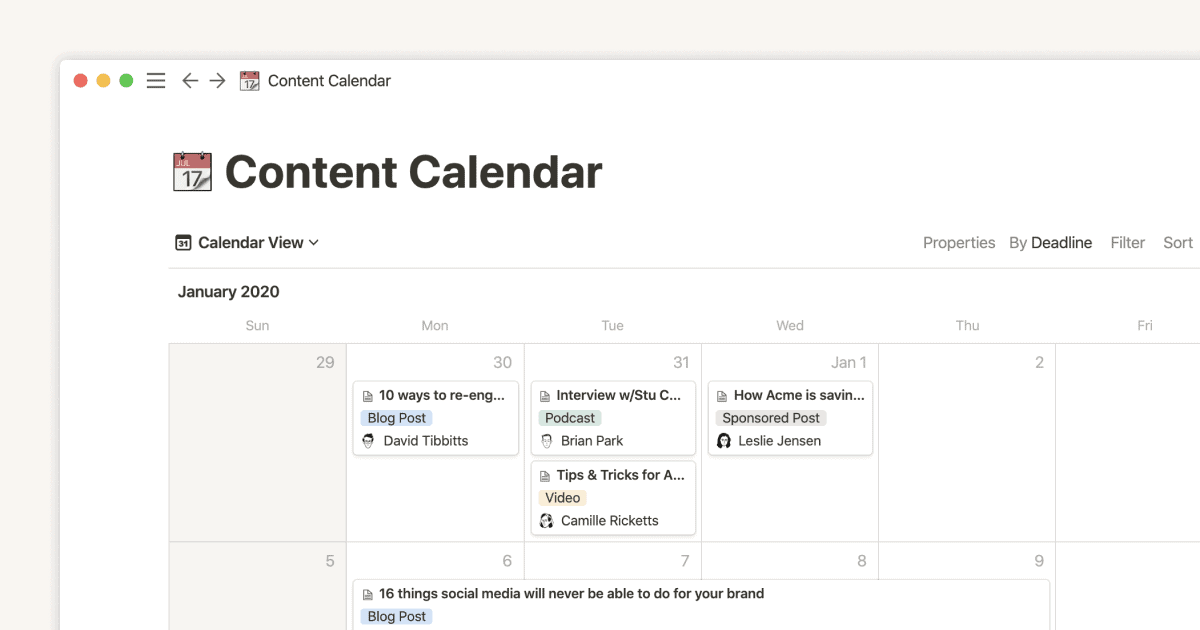 Tracking time-sensitive information? Maybe you need to keep your meeting schedule in one place? Add information to calendars and they'll act a bit like Kanban cards. You can customize these cards as thoroughly as any other Notion page.
Gallery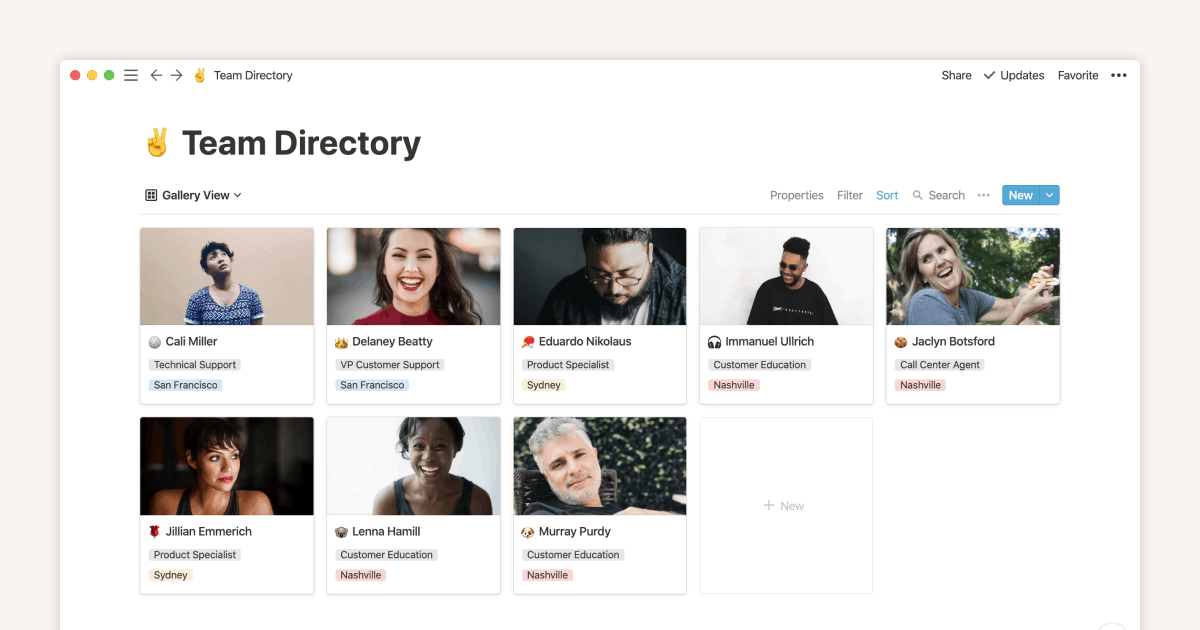 Here's that mood board we were talking about earlier. With a Gallery, you can display crucial information in a more visual way. Maybe you're choosing between new logo designs, or you want to keep website updates organized.
Timeline
Are you a diehard Gantt chart aficionado? Timelines replicate the Gantt charts you know and love, so you can keep track of dependencies throughout your projects. Click on any card to expand and customize it.
Want to know more about how to use Notion? Check out our beginner's guide here.
5 things you'll need for Notion project management
Buy-in from stakeholders
Before you can shift ongoing and future projects to a new tool, you need buy-in. That means going to the right stakeholders, pitching Notion project management, and handling their objections. Here are a few ways you can make sure you get buy-in from stakeholders before you do the hard work of putting everything into Notion:
Get people on your side: If you know you have five people to convince and two of them are most of the way there, start with them. That way, you can always say "I've already got buy-in from person X and person Y." You can also start with people involved with the daily work even if they don't make the decisions. It's easier to convince a team lead they should switch to a new tool if their whole team thinks so, too.
Compare Notion to the old system: What are the teams at your organization using right now? A Trello board? An email chain? Take the time to find the places where that system is failing and explain how Notion can fill these gaps — concrete examples help, too.
Use numbers: Stakeholders love numbers. It gives them something to fall back on when someone eventually challenges their decision. Find Key Performance Indicators that highlight what Notion can do for your projects — like time saved, money spent, or tasks completed.
Run a pilot project: Try using Notion for a small project and see how it goes. With a test run already under your belt, it'll be that much easier to get buy-in for future projects.
Identify who you need buy-in from, apply these tips, and pretty soon all you'll have left to do is actually start using the tool.
A crash course on Notion
You might know the ins and outs of using Notion, but does the rest of the organization? One of the toughest parts of adding a new tool to your team's stack is the learning curve. Some tools, while a great fit for a team's needs, won't be adopted because they're too tough to learn. The best way to mitigate this is to plan for that learning curve with resources your teams can rely on.
Start them off with our beginner's guide for Notion. It covers how Notion works, from pages to blocks and databases. Your teams will be building Notion pages in no time. If you're already familiar with Notion and subscribed to Unito, we have a handy walkthrough on how to sync Notion with Google Calendar.
From there, find documentation as the need arises. Notion has a vibrant community that can help you find answers for questions that come up as your teams adopt the tool.
The right Notion project management methodology
One of the main advantages of project management in Notion is flexibility. You can build a page to cover any kind of use case in just a few clicks. But sometimes, having that many options can make getting started difficult. What should you build first? How will you know when you have everything you need?
Before you try and figure out what you should build in Notion, start by picking a project management methodology. This will help you determine how your team will work, and from there you can build what you need. Here are a few examples of project management methodologies you can try:
Once you've figured out which project management methodology you want to use — or which one you're already using — you can start building the pages you'll need.
Basic Notion project management pages
After everyone learns the tool and you've made a plan, you can start building the pages you'll need for project management in Notion. Because Notion is such a flexible tool, you can tailor it to your particular project instead of trying to make a pre-built tool fit your needs. Here's a breakdown of the pages you'll want to build before using Notion:
A task management system: This'll look different depending on the project management methodology you've chosen. Maybe you'll build a Kanban board, a Gantt chart, or a product backlog.
A wiki: You'll need a place to keep all the documentation your team needs, from project briefs to assorted deliverables. Notion makes building an interlinked wiki super simple.
Template directory: Why start from scratch with every project? Make sure to save new pages somewhere as you build them, that way you'll have templates for everything you need.
Meeting tracker: Even if you're using Google calendar, you need a place to keep meeting agendas, action items, and meeting minutes.
A roadmap: You need a way to share your team's priorities with stakeholders. With a roadmap, you can show initiatives, due dates, and deliverables.
With these pages built, you'll be ready to get started. You might eventually need to bulk up your Notion project management system, but you can do that as needed.
Notion project management templates
Want to get started even faster? Notion has a ton of project management templates in their gallery for everything from personal task management to building product roadmaps.
Alternatively, you can check out our breakdown of the 28 best free Notion templates from around the web — including some of our own.
The right integration
Now you're all set up in Notion and your teams are doing great. But maybe you're working with people who won't — or can't — migrate to your favorite tool. They might be using something like Jira to manage product work, or they rely on an even more niche tool like GitHub or HubSpot. Either way, making collaboration happen between you is tricky.
Unless you have the right integration.
With Unito, you can build deep, two-way flows between leading work tools and break crucial data out of tool silos. That means you can get all your Notion project management done without copying work over to another tool.
Want to know more?
See how our Notion integration works, what it supports, and what you can accomplish with it.