How to Quickly Export and Sync Intercom Conversations to Asana in 2023
This walkthrough will show you how to connect Intercom and Asana with a no-code Unito integration that syncs conversations and tasks quickly and effectively. Similar steps will apply to other project management tools synced to Intercom, including: Asana, Trello, monday.com, ClickUp and more.
This simple integration enables the team in Asana to keep track of important customer conversations and ensure quick responses from subject matter experts outside Intercom.
Additionally, it eliminates the need for manual entry for the team in Intercom who may need to copy/paste details or specifics into another app or tool.
By the end of this article, anyone on your team will be able to set up a quick integration that turns a conversation in Intercom into an Asana task with automated 2-way updates between tools.
Watch Unito's Intercom Asana integration in action
Why should you review Intercom conversations from Asana?
Speed up collaboration between departments
Setting up an integration between Asana and Intercom simplifies and expedites the process of getting other teams involved in your customer support workflows. If you need help from other departments, automating a connection between tools enables quick replies from a familiar interface.
Extend visibility securely
It's also extremely helpful if you want to improve visibility on conversations in other tools. Since Unito is Soc 2 Type 2 certified and GDPR compliant, your data is securely handled with an integration like this to protect customer privacy.
Share additional context with different teams
Another popular use case for this workflow involves sharing ticket details from Intercom with teams in Asana as those tickets escalate and more work is assigned. Syncing the conversation to the task gives teams context directly from the customer as they try to solve the problem.
Connecting Intercom with Asana through Unito speeds up that process so no one needs to try and paraphrase the conversation, they can just share it automatically.
Before we connect Intercom and Asana to Unito
Make sure your Intercom account has "Can install, configure and delete apps" access turned on. Here's how to edit permissions in Intercom.
For now, this integration can only sync one-way to Asana.
Let's set up our integration to review Intercom conversations from Asana
This flow has two primary goals:
Set up a one-way flow to create tasks in Asana based on specific conversations from Intercom.
Set up a 2-way sync between relevant fields so that our team in Asana can interact with the team in Intercom without changing tools, and update task status for both teams.
Step 1. Connect Intercom and Asana to Unito
Navigate to the Unito App and select +Create Flow. On the next screen, select Start Here to connect Intercom and Asana. Choose the accounts you wish to connect to Unito. Then, specify a single Intercom Team and Asana project.
When you're ready, select Confirm.
Step 2. Set a flow direction between Intercom and Asana
Since our Intercom integration currently only supports one-way flows, this part is simple. We must choose a one-way sync from Intercom to Asana. This tells Unito to automatically create an Asana task synced to new Intercom conversations that match our rules in step 3.
As you'll see in Step 4, we'll later use a two-way flow for individual fields in our tasks and issues so that information between.

Select Confirm when you've chosen a flow direction.
Learn more about flow directions.
Step 3. Set rules that determine which Intercom conversations to sync with Asana
Your rules allow you to be precise about which Intercom conversations to sync over to Asana so you only pick the most relevant ones.
Select Add a new trigger to begin setting your rule to determine what actions taken in Intercom will cause new tasks to appear in Asana.
In the above example, our demo will create Asana tasks ONLY when an open Intercom conversation in our specified Team is tagged: bug, engineering, or Feature request. New tasks in Asana will then appear in the New Requests section of our chosen project.
Find out more about setting rules.
Step 4. Pair Intercom fields with Asana task fields
Here you can choose which fields in Intercom to sync with fields in Asana tasks. Most fields can be synced one-way in either direction or bidirectionally.
But first, you'll have to decide whether to pair your fields manually or have Unito auto-map them with a prebuilt template.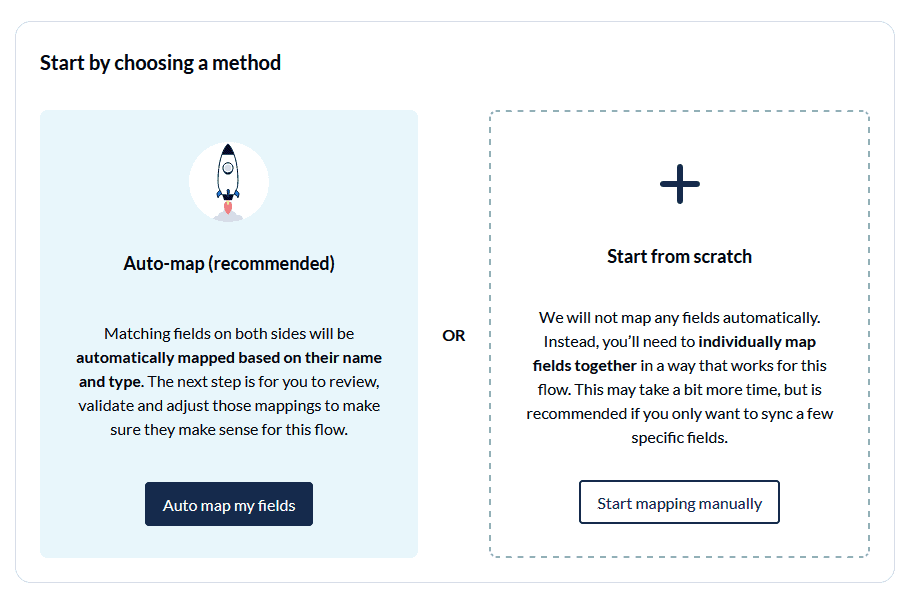 Select + Add mapping, then Select a field in both Intercom and Asana to pair two fields together.
Let's look at our completed set of field mappings and then we'll describe a few in detail:
Attachments and links to the Intercom conversation will appear in our Asana task's description footer.
Intercom titles become Asana Task names.
The First reply in Intercom will populate our task's description.
Intercom State is synced to task Status.
Assignees, tags, priorities, and notes & comments are all synced appropriately.
Our custom field Eng Status is synced one way from our Asana Sections/columns. In this custom field, as tasks are moved between specific sections/columns in Asana, their Eng status in Intercom changes.
In our demo, we also have a few custom fields (those with a blue '?' beside them) and we can select the gear icon to modify the values of applicable fields.
Click Confirm when you're satisfied with your field mappings to proceed.

Learn more about Field Mappings
Step 5. Save, close and launch your Asana Intercom integration!
And that's it! You've just completed a flow to connect Intercom with Asana. Congratulations!
If you've followed the steps above, your flow will now:
Create an Asana task based on Intercom conversations tagged for bug reports, engineering issues, or feature requests.
Enable teams between tools to collaborate easily, with context automatically available so everyone can work more efficiently and with the latest information.
If you have any questions, don't hesitate to reach out and let us know.
What's next after connecting Intercom and Asana to Unito?
If you're interested in seeing what else you can do with Unito, here are some articles to help you power up your workflows: