How to Quickly Sync HubSpot Deals With Asana Tasks
This walkthrough outlines the steps required to sync deals from HubSpot with Asana tasks using Unito, although the same principles apply to other CRMs and project management tools.
Why sync HubSpot with Asana?
Your sales teams or customer success teams may be working daily in a CRM, while operations teams might find themselves in a variety of other tools. Often in these situations there is limited visibility and access to the CRM unless those users switch to HubSpot. When it comes to getting the right security information, involving legal in contractual redlining or simply preparing project delivery teams for onboarding, sales and operations often have to bridge this tool gap.
Syncing HubSpot with Asana through Unito will enable you to:
Add new Asana tasks automatically when specific HubSpot deals are created.
Update Asana tasks and HubSpot deals automatically based on changes in the other tool.
(Optional): Create new HubSpot deals when certain Asana tasks are created.
The criteria for how tasks or deals are created comes from the rules you choose in Unito. Typically, you tell Unito to look for specific triggers, such as tags, user names, projects, organizations, etc. By including those triggers in your rules, you ensure that only those kinds of deals or tasks will sync between HubSpot and Asana with Unito.
Who should sync HubSpot deals with Asana tasks?
Any organizations with teams using both HubSpot and Asana can benefit from this 2-way integration. This integration can also ensure that any updates made in either platform are reflected in real-time.
Asana and HubSpot integrations for Marketing Teams
Marketing teams in Asana can support a sales team in HubSpot by syncing tasks or deals between these tools to collaborate and quickly provide collateral or other assets.
This Asana HubSpot integration can also be used to ensure that marketing campaigns, content creation, and lead management are seamlessly coordinated. For example, a use case could be automatically creating an Asana task for each new lead generated in HubSpot, allowing the team to follow up promptly.
Improving efficiency and speed for sales teams
Sales teams can boost their efficiency by syncing customer information and deal stages between the two platforms, keeping everyone on the same page. Sales reps can create Asana tasks from HubSpot deals, enabling them to track progress and collaborate effectively.
You could tell Unito to create tasks for marketing in Asana based on activity in specific HubSpot deals or tickets to quickly inform the team of much-needed support materials.
Managing projects more effectively by dropping data silos
Project management teams can benefit from integrating HubSpot and Asana with Unito to centralize information between tools. By syncing project tasks, milestones, and deadlines between HubSpot and Asana, project managers can have a much better sense of timelines and resource allocation in each tool.
For instance, a use case could be automatically creating a new HubSpot contact when a new project is created in Asana, enabling seamless communication and collaboration.
These are just three examples of how integrating HubSpot and Asana with Unito can benefit different audiences. The possibilities are vast, and the integration can be tailored to specific business needs and processes.
Before we connect HubSpot and Asana to Unito
Ensure you have an account with the right permissions in both HubSpot and Asana  to access and modify data.
For the sake of this walkthrough, suppose one of your sales reps is about to close a deal with a potential customer. Before that can happen, you need the legal team to review the contract, or perhaps the business operations department needs to fill out a security compliance questionnaire.
Normally, the rep might send an email to legal, or create a task in Asana themselves.
Watch this HubSpot Asana integration demo in action
Step 1. Connect HubSpot and Asana to Unito
Navigate to the Unito App and select +Create Flow.
On the next screen, select Start Here to connect HubSpot and Asana.
Choose the accounts you want connected to Unito.
On the left-hand side below HubSpot, you'll see a field labeled of the type. Select Deal. You'll also need to set the Pipeline you want to include in this flow. See below for an example:
When you're ready, click Confirm.
Step 2. Set a flow direction between HubSpot and Asana
Flow direction tells Unito where to automatically create new work items (tasks, deals, tickets) based on your manual activity in either tool.
Work items created in your source tool manually can appear in your destination tool(s) automatically based on the flow direction you choose here.
Since the goal is to send deal information from HubSpot to an Asana task, you'll set up a one-way flow. But, as you'll see in Step 4, you'll later include field mapping that allows users to send specific updates from Asana back to HubSpot.
Step 3. Pick rules to filter tasks and deals from syncing between HubSpot and Asana
Now you can set up rules to determine which trigger events will send data between HubSpot and Asana. Select Add a new trigger to begin setting your rules. There can be some variability here depending on your particular setup in each tool.
Add a few triggers to specify which deals will create matching Asana tasks. See below for an example:
Find out more about setting rules.
Step 4. Choose fields to keep in 2-way sync between Asana and HubSpot
Field mappings allow you to carefully select which details sync between a HubSpot deal and a task in Asana. First, you can decide whether or not Unito should recommend auto-mapped fields. Think of auto-mapping as working with a template, or you can start from scratch.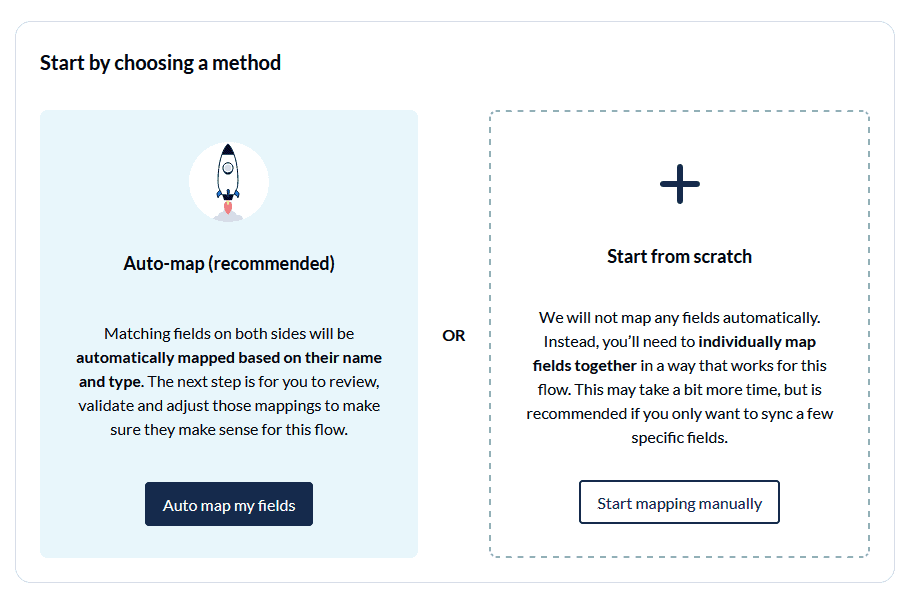 Your fields will default to two-way updates, but you can adjust them as needed. With a one-way sync between fields, only the destination field will update automatically when you make changes in the source field.
Select + Add mapping, then Select a field in both HubSpot and Asana to pair two fields together. Select the gear icon to modify the values of applicable fields.
You can view the completed field mappings for this demo in the example below:
Find out more about setting field mappings.
Step 5. Save, close and launch your HubSpot to Asana integration!
And that's it! You've just completed a flow between HubSpot and Asana. Congratulations!
If you've followed the steps above, your flow will now:
Create a task in Asana as soon as our Hubspot user specifies that a deal requires additional support from other teams as specified in our rules.
Enable the team in Asana to support the team in Hubspot and send information back to them automatically by completing the synced tasks.
Enable both sides to stay in their tool of choice without submitting manual requests for information or switching back and forth between tools.
HubSpot deals will automatically become tasks, and other teams can create new deals in HubSpot without leaving their work hub. Any changes made in either tool (e.g., comments or due dates) — will be synced to the other.
You can potentially connect your pipeline to multiple projects, using rules to filter deals by priority, stage, or type. That way, you can dispatch work to multiple teams without any extra effort.
If you have any questions, don't hesitate to reach out and let us know.
To learn more about the background and context behind this walkthrough, feel free to read the case study.
Learn how to duplicate this flow to suit other use cases you may have in mind.