How to Sync Asana to Microsoft Excel Automatically
This guide will walk you through the process of syncing Asana tasks to a spreadsheet in Microsoft Excel automatically thanks to Unito's no-code 2-way integration. Connecting Asana to Excel saves you from copy-pasting tasks manually into spreadsheet and even keeps your data up-to-date from end-to-end. It simplifies the process of building progress reports, managing human resources, analyzing financial details related to tasks and other use cases requiring Asana project details pasted into Excel.
If you'd like to learn more about Unito first, check out our integration overview for Microsoft Excel and Asana. By the end of this guide, you'll be able to:
Generate new rows in Microsoft Excel based on activity in Asana.
Keep your spreadsheet automatically up-to-date in real-time with a 2-way sync.
Here's an example of our completed integration between Asana and Excel:
Why connect Asana to Microsoft Excel with Unito?
No more need to export/import .CSV files
Syncing Asana tasks to Excel rows enables. you to speed up the reporting process by populating your data table with live updates from Asana that change as work is completed. So when someone in Asana updates a task, Unito enables you to see those changes from Excel in real-time. This method saves you the hassle of exporting and importing .CSV files and collating data manually.
Spend more time finessing your dashboard
With a live 2-way sync, you can build reports for stakeholders quickly and efficiently through simple automation. It's also handy for reviewing budgets and expenses; resource management; and collaborating with external contractors, clients, or other contacts across a variety of apps and tools.
Before you connect Asana and Excel to Unito:
Make sure you have an account in each tool with the right permissions to access and modify data. If you aren't sure, head to app.asana.com and office.com/launch/excel to check.
Install the Unito add-in for Microsoft Excel Online. Without the add-in, you won't be able to sync data between Asana and Excel.
Set up a table header in Excel so that the first row includes the names of your Asana fields (e.g., title, description, assignee, etc.). This is how Unito will know where to put the data from each Asana task in your spreadsheet.
If you aren't sure where to begin, we created this template for Microsoft Excel users you can use to get started. Just be sure to download the template and then upload it to your own One Drive in order to use it.
Contents
Feel free to skip ahead if you're already in the middle of building your Asana – Excel flow.
Step 1. Prepare your table header in Excel
The most important thing to keep in mind is that Unito will identify titles in the first row of your spreadsheet (the table header) as fields which can be mapped to Asana tasks. Put another way, your rows will become tasks and your columns will become fields.
So be sure to give each column a name that's intuitive and relates to whatever field you're syncing over from an Asana task. You don't have to give your Excel fields the exact same name as your Asana fields, but it may help you stay organized.
Step 2. Install the Unito add-in for Excel
Go to www.office.com and open Excel Online. Then, click Insert at the top of your spreadsheet and select Add-ins from the right-hand side.
Select store, then search for Unito for Excel and click add. Follow the on-screen instructions to add Unito to your Microsoft workspace. Once the add-in is installed, click Insert the two columns in this sheet.
Unito will automatically create a column named UnitoID at the beginning of your first row and one named Last Modified at the end of it. Only the data between these two columns will sync with Unito. You can hide them after they're created, but you can't delete or otherwise remove them or else your data will no longer sync.
Step 3. Connect Asana and Microsoft Excel to Unito
Open the Unito App and click +Create Flow.
Click Start Here to connect Asana and Excel in any order.
Select an account for each of your tools.
Choose the Asana Project and Excel Sheet to connect.
When you're ready, click Confirm.
Step 4. Set a flow direction between Asana and Excel
Flow direction determines how new Asana tasks or spreadsheet rows are created but not modified. Later, we'll tell Unito how and when to modify our fields, but here you just need to decide if you want activity in either tool to create new work items (e.g., tasks, rows) in the other.
For our demo, we're only populating spreadsheets with Asana task data, so we'll choose a one-way flow from Asana to Excel.
Click Confirm when you've chosen a flow direction.
Step 5. Set up rules to filter data between Asana and Excel
Unito uses rules to determine how and when new work items are created. You can set triggers to filter out specific Asana tasks from syncing to Excel (or vice versa) to be precise. This is especially valuable if you have a lot of tasks in your project, but only some of them are relevant for your spreadsheet use case.
There can be a lot of variability here that will depend on your particular needs and tool setup. By customizing your Asana tags, you can be even more precise about what kind of data is shared with Excel. Here's very simple set of rules from our demo:
Find out more about setting rules.
Step 6. Set up field mappings between Asana and Excel
Next, you'll be presented with two options: if you choose Auto-map, Unito will pre-populate a list of suggested field mappings which you can then adjust. If you prefer a DIY approach, Start from scratch. We recommend mapping fields from scratch for this particular flow.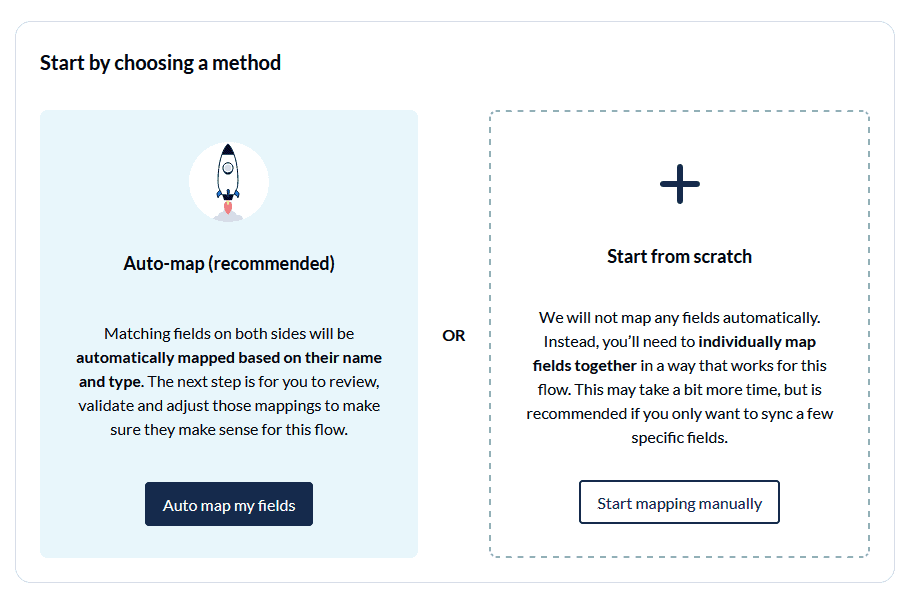 As mentioned above, each cell in your table header becomes a custom field that Unito can sync 1-way or bi-directionally. In each case the flow direction functions as you might imagine:
A 1-way field mapping means changes in the source tool will appear in the destination, but not the other way around.
A 2-way field mapping will cause any changes in Excel or Asana to appear in the other.
Click Confirm when you're satisfied with your field mappings to proceed.
Find out more about setting field mappings.
Step 7. Save, close, and launch your Asana – Excel Flow!
And that's it! You've just completed a 2-way integration between Asana and Microsoft Excel! If you've followed the steps above, your Unito flow will now:
Create new rows in Excel based on specified Asana tasks.
Keep those rows and tasks updated in real-time based on our field mappings.
Here's one last look at our demo integration between Asana and Excel:
If you have any questions, don't hesitate to reach out and let us know.
What's next after syncing Asana tasks to Excel rows?